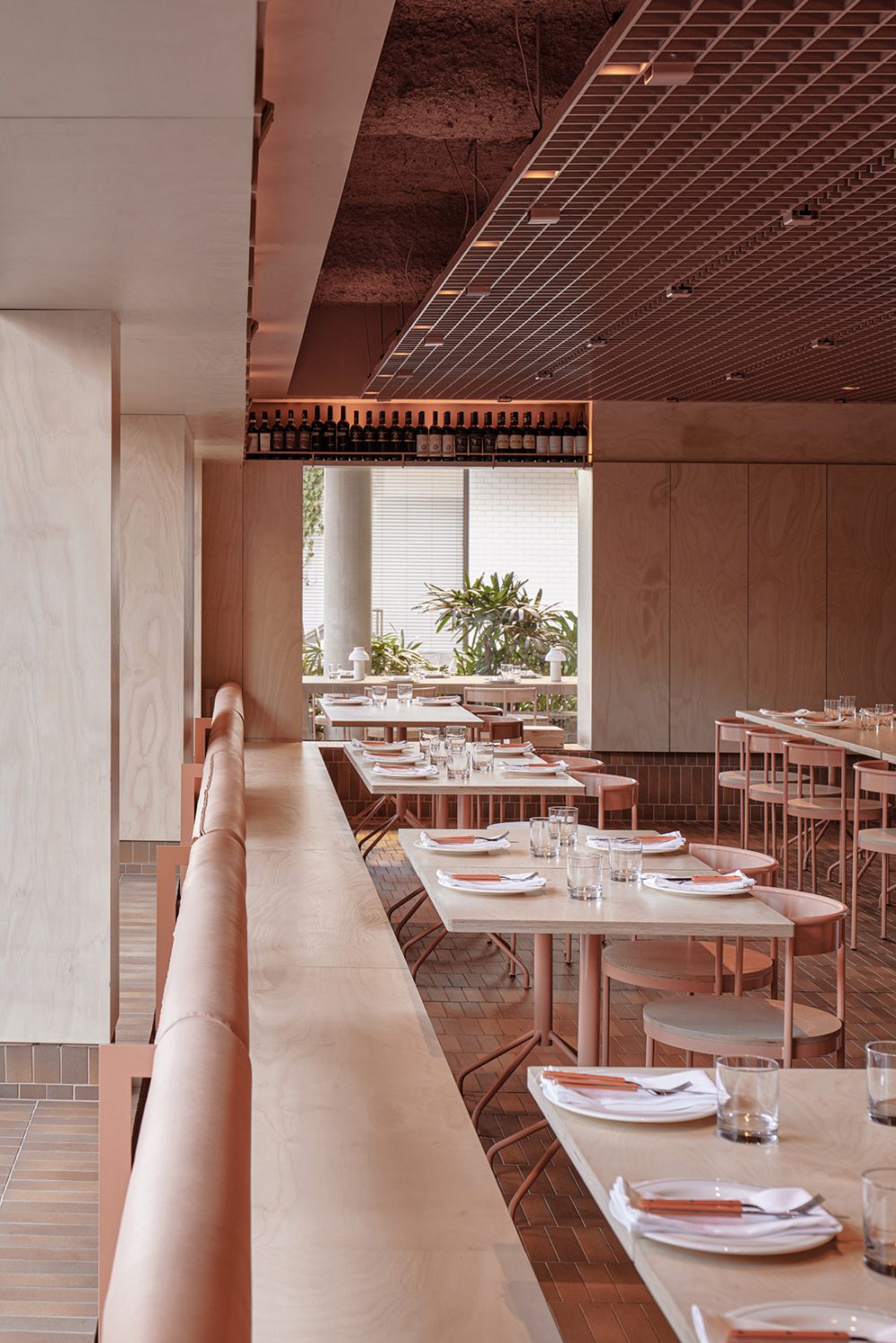 03/06/2021
The Neighbours: BIÀNCA
Food, Hotel, James St
Everybody needs good neighbours – and on a starry April evening, Ada Lane, our vibrant retail and dining strip bordering our northern aspect, welcomed its final resident, BIÀNCA. Owners and operators Tyron Simon, Ben Williamson, Frank Li and Italian born Bianca Marchi for whom the venue is inspired and named, had a desire to bring the captivating effervescence of a classic Italian trattoria to James St. We can confirm, they have delivered on both the fare and flair.
No less than 35,840 peachy hued tiles cover the internal surfaces of this two-story, terracotta paradise hinting at the warmth of the space, the owners and the designers. Designed with characteristic vision by Richards & Spence who of course also designed us here at The Calile and much of the surrounding James St. Well versed in the local scene, BIÀNCA is the second collaboration in Ada Lane by both architects and restaurateurs, with neighbouring venue sAme sAme also designed by Richards & Spence and operated by Ty, Frank and Bianca.
Back to BIÀNCA – fit with a lively dining area, bar, private dining room and interactive kitchens, the space is all-inclusive but it's the atmosphere that makes it glow with warmth and charm.
A single clap of the hands by Head Chefs Callum Grey and Mario Asero, means 'food is up'. Food that is made with tradition in mind and in-house – from pasta to bread, to even the cheese, with 90 kilograms of flour sieved each week. The consummate Italian menu is designed to share and complimented with fine wine of Italian provenance or variety – 350 varieties to be exact – and Sommelier Millie Gosney is on hand to assist in pairing drops with dishes and pronunciation.
Take note – Gorlami and Paccheri al Pomodoro, Stracciatella has been given 'signature pairing status' by Bianca herself.
The BIÀNCA team are true gastronomic high-achievers, behind five of Brisbane's most in-demand and much-loved venues (sAme sAme, LOS, hôntô, Anges and now BIÀNCA) so we asked how they want guests to feel in their latest venture, the response:
"We want them to feel comfortable and to have fun. Enjoying the simplicity of the menu through the quality of the ingredients."
That's the type of neighbours we like around here, and one you'll want to be friends with too.
Bookings are essential.