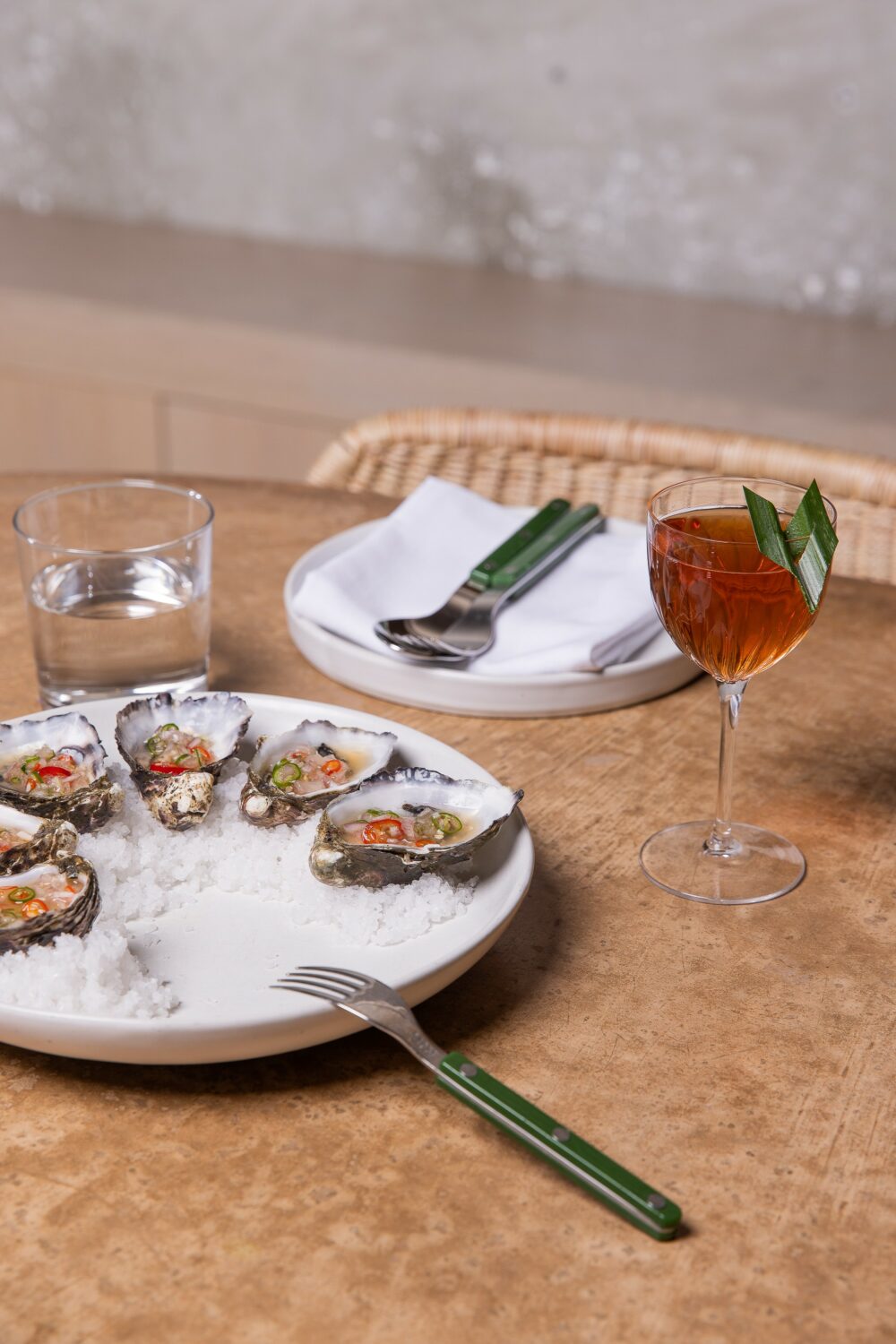 10/01/2023
The Neighbours: sAme sAme and LOS
Food, Hotel, James St
Overlooking The Calile are two of James Street's most popular dining and bar destinations – sAme sAme and LOS (Land of Smiles) – a neatly stacked pair residing in Ada Lane. We spoke with restaurant duo and life partners Ty Simon and Biànca Marchi, part owners of the two buzzing destinations, both considered a must-visit when staying at the hotel and located only a few steps from the lobby.
That slight separation from The Calile was part of the appeal of the location according to Ty, "Ada Lane offered us the chance to be a part of The Calile and the James Street precinct, and we also liked the laneway gap between the hotel and the restaurant. We have always viewed ourselves as Brisbane people who operate restaurants for Brisbane people, and the subtle distance from the hotel allowed us to not deviate too far from our roots. We love being a part of a community, and Ada Lane allowed us the connectivity we desired."
sAme sAme's flavoursome and fragrant Modern Thai cuisine is well suited to our sub-tropical climate and is also reflected in the lush green plantings and spaces. The green theme and Thai flavour are on display within the impressive drinks menu at LOS Bar, including cocktails made using Thai basil, dragon fruit, chilli, and lychee.
Beyond the seasonally evolving menu, Ty and the team focus on quality service and experience, "In sAme sAme, our guests and their needs always come first. We focus entirely on the delivery of great Thai dishes at honest pricing. We are incredibly lucky to have amazing staff who are equally as focused on delivering exceptional customer service. Our menus are constantly changing, even if it means that some beloved dishes and cocktails need to go. To keep our friends and loyal customers excited about the venue, we believe that our menu must be in a constant state of evolution and refinement."
For Ty and Biànca, sAme sAme and LOS represent two of their six in-demand establishments in Brisbane – their wider family is made up of Hôntô, Agnes Restaurant and Agnes Bakery, along with Biànca located in Ada Lane too.
Ty shares his history, "We originally had a bustling Thai restaurant (LONgTIME) that was somewhat of a trailblazer on the Brisbane dining scene. The venue was hard to find, didn't take bookings, no sign, but it was fun, moody, loud, and most importantly delicious.  It represented a new wave of Brisbane dining. The city was well represented by some great established restaurant operators, we were neither! We had modest goals and big dreams. We were naive and a little brash. Requests to turn the music down often resulted in the opposite. It wasn't that we thought the requests were unreasonable either. We just believed that our edge was delivering a fun dining experience, and given the failure rates of restaurants are so high, we wanted to fail based on our own beliefs. Thankfully we didn't, and we have been far more diplomatic and sensible since then!
The fit-out of our first restaurant matched the atmosphere, so when we made the decision to open sAme sAme, we opted for a change in brand and appearance to signify the new beginning and the evolution of us as restaurateurs. We are incredibly proud of our first venture, however, like everything, it had its time, and it had its place. sAme sAme, however, was created for a very different one."
Stowed away on top of sAme sAme is LOS Bar, created as a lively space for diners to start or end their night. Arrive early for a pre-dinner cocktail or finish the evening with a nightcap with DJ sets to suit.  For Ty, who comes from a nightlife past and is known for taking turns on the DJ decks himself, music is a vital element to all his establishments. "Music is so important when we are designing new spaces and the feeling it evokes – LOS allows us to express a different style of music to what we play in sAme sAme."
When it came to sAme sAme, the design of the space was paramount to the experience, "sAme sAme needed to represent the fun, fast-paced nature of Bangkok combined with the beautiful aesthetic of The Calile. Design-wise, the kitchen is at the heart of the restaurant and needed to be prominently located as a visual for all diners. We did not want the architects (Richards & Spence) to deviate too far from what they already did in building the space, so the process was relatively easy (at least it was from our point). I had an afternoon beer with Richards & Spence architect Adrian Spence and by the next day, 70% of what we know as sAme sAme was imagined."
The opening of Biànca just two doors down in March 2021 was welcomed with much praise.
Coupled (like the co-owners) in name and life – sAme sAme and Biànca have become an innate part of the James Street dining community. The venues (and the couple) are both admired for their passion, warmth, and genuine hospitality.
A partnership that has made their success even sweeter, "I was very fortunate to meet my now fiancé (Biànca) at our first restaurant. We were both seeing other people and became friends. I think this helped me as Biànca got to see all my flaws as I was not trying to impress her! I would like to think that I didn't have too many, but the reality is she must be a sympathetic soul and loves a lost cause! We are lucky that we share so much in common, and we have lived and worked together now for over 7 years."
Find sAme sAme and LOS in Ada Lane and look out for Ty and Biànca, who are never far from the action and welcoming people into their venues like family.