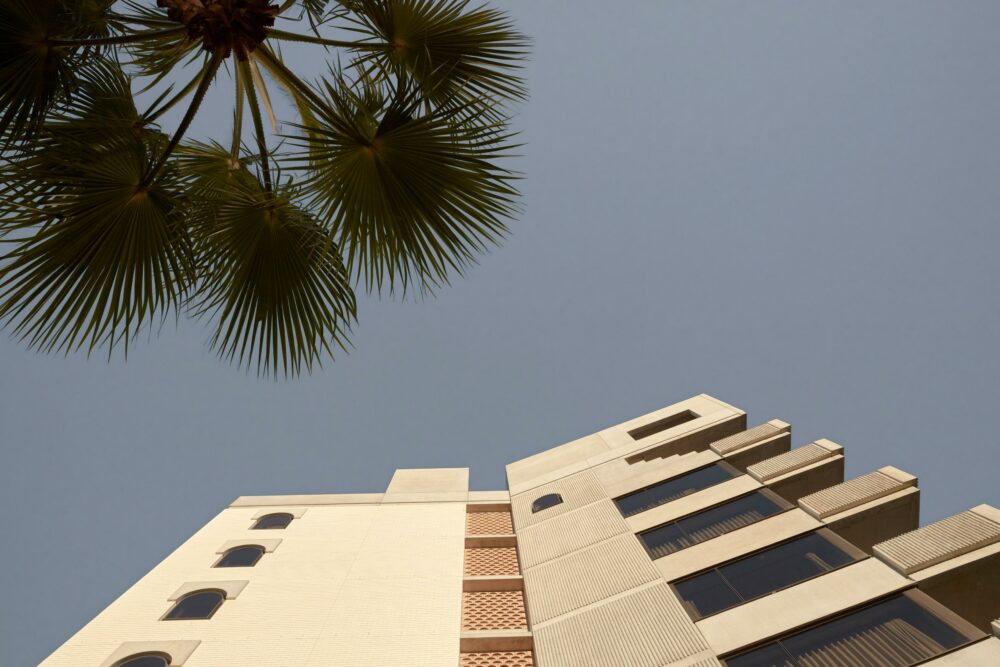 22/01/2023
Sustainable Steps
Hotel
Sustainability is a journey.  From the moment The Calile evolved on paper, strategies to reduce our environmental impact were considered from the very foundations upwards.  As a matter that is close to our heart, we will always work towards sustainable practices and ways to minimise our footprint.
As a matter that is close to your heart, we have compiled a little list of some of the initiatives put in place as even the smallest changes count… but these are just the beginning.
Catching the breeze
The Calile resides in a sub-tropical location – hot days and balmy evenings are a reality in this warming world where it is tempting to retreat from the heat and blast the air-conditioning.
The Calile however was designed from the outset with climate in mind. Circulation spaces are naturally ventilated – reducing dependence on power for cooling 24-7, 365 days per year.  Corridors ventilate naturally via open-air lift lobbies and breezeblock aerated hallways – drawing the air through.
Rooms welcome filtered airflow too through private balconies, a simple and eco-friendly alternative to cooling. Each room is set to eco mode – designed to sleep when not occupied between guest arrivals.  When guests leave the room unoccupied, air conditioning and lights turn off and the block-out blinds close to eliminate energy waste. Upon returning, the room wakes up and resets to the preselected settings.
Catching the sun
It may surprise you that the number one VIP guest at The Calile is not a celebrity, although there is no bigger star in our universe. That's right, the sun is our most valued guest, making holidays and pool time memorable for all, but as of 2023 the sun is delivering more than just sun-soaked days. This year we are putting it to work and harvesting sunshine via a fresh 90-panel solar array.
Brisbane averages an enviable 283 days of sunshine per year, that's why we built Australia's first 'urban resort' back in 2018 and it's also why we have reclaimed 240m² of prime rooftop and transformed it into a solar power plant. Our target is to harness up to 75,000 kWh annually to predominantly power the air-conditioning needs of guests and additional hotel functions wherever required. Again the sun is our VIP, which is why we have invested our rooftop in renewable energy rather than using that space for more rooftop bar or restaurant space.
Plugged in
Harvesting sunshine naturally leads us to EV – electric vehicles are welcome at The Calile with two dedicated charging stations available via the Chargefox network and located within our underground car park. Our hotel vehicle too, the BMW iX is an all-electric SUV – making your arrival and departure a clean one.
Unplugged
We've located ourselves in a bustling neighbourhood with the James St district just outside our door meaning most wants and needs are in easy striking distance.  If however, you are hoping to go a little further afield, we encourage you to forgo taxis or transit systems and instead opt for one of The Calile eBike or human-powered Lekker bicycles. Load up the basket for less traffic, less pollution, more discoveries and more serotonin.
Resilient materials
Where possible the architectural elements used have been ethically sourced. A good example is the extensive use of cork throughout the rooms and the function spaces in place of carpet and wallpaper. The bark of the cork tree can be harvested without cutting the tree down or clearing the land. Cork trees are also experts at carbon capture, require no pesticides, irrigation or pruning and are harvested by hand – making this one of the most sustainable building products. It also has natural thermal properties – which is why it has been used for centuries to protect wine against high temperatures.
Enduring materials have also been utilised throughout to give the hotel durability and a lifespan that extends beyond our single-use modern world. Resilient materials of brick and concrete are used across internal and external spaces, whilst stone is used in areas requiring enhanced resilience thereby reducing the need for replacement as the hotel ages.
Homegrown
Agricultural production, while imperative, contributes greatly to emissions, particularly via its transportation, so we have got our hands dirty and created our own rooftop veggie patch. Again, small steps but our organic rooftop garden comprises eight tidy rows of planters that produce a humble harvest that feeds our Lobby Bar diners daily just a few short steps from harvest to plate.
The roof is also home to four tidy hives housing a community of pollinators. While the sweetest result is without doubt the honey that is used in Lobby Bar, The Calile bees also ensure bountiful crops from our rooftop garden and any local veggie gardens within a 5km radius. Not bad for a bunch of little fuzzy friends.
Waste initiatives
Waste too is meticulously sorted via a comprehensive refuse sorting area in order to maximise recycling – with separate collections for glass, plastic, cardboard, general and kitchen waste.
We direct a portion of food waste to our rooftop composting bins – with the compost being put to good use feeding our rooftop garden…and then you via the garden goodies because when it comes to fertiliser, only natural will do. Any food that is too good to compost has also been put to good use with food rescue organisation OzHarvest.
Beyond food waste, limiting landfill wherever possible is also a policy. This includes several recycling initiatives:
Reducing plastic – all-glass drink products are used in the mini-bars and glass carafes are utilised in function spaces and restaurants instead of plastic bottles. This also extends to water in-rooms with each level hosting a micro-filtered water outlet for guests to refill the provided glassware instead of using bottled water. This saves approximately 50,000 single-use bottles of water per year. When guests do request takeaway water, we provide aluminium water bottles which we encourage guests to reuse and are recyclable too.
Recycling takeaway coffee cups – we love our coffee around here, but we encourage all to take an Italian approach to coffee, instead of rushing off with a takeaway cup, to stop, sit and enjoy the award-winning Calile Blend by Fortitude Roasters. For those who are on the fly, however, look for the Simply Cups recycle stations at the hotel which in just under three years has recycled over 52,500 disposable coffee cups.
Another recycling initiative we get frothy about is Soap Aid, with all remnant soap bars being recycled and put to work globally in communities facing major hygiene issues.
Green cleaning is also considered. Guests are invited to reuse towels to limit waste on over-laundering and increase the lifespan of manchester.
At The Calile, we understand the importance of sustainable initiatives – it is part of the decision-making process from the foundation upwards.  We also understand that despite the immensity of the challenge, the road to a cleaner, more sustainable world is made up of individuals and organisations making small steps.  In taking those small steps, we hope to set a path towards large-scale improvement that will gain momentum and provide long-lasting impact.