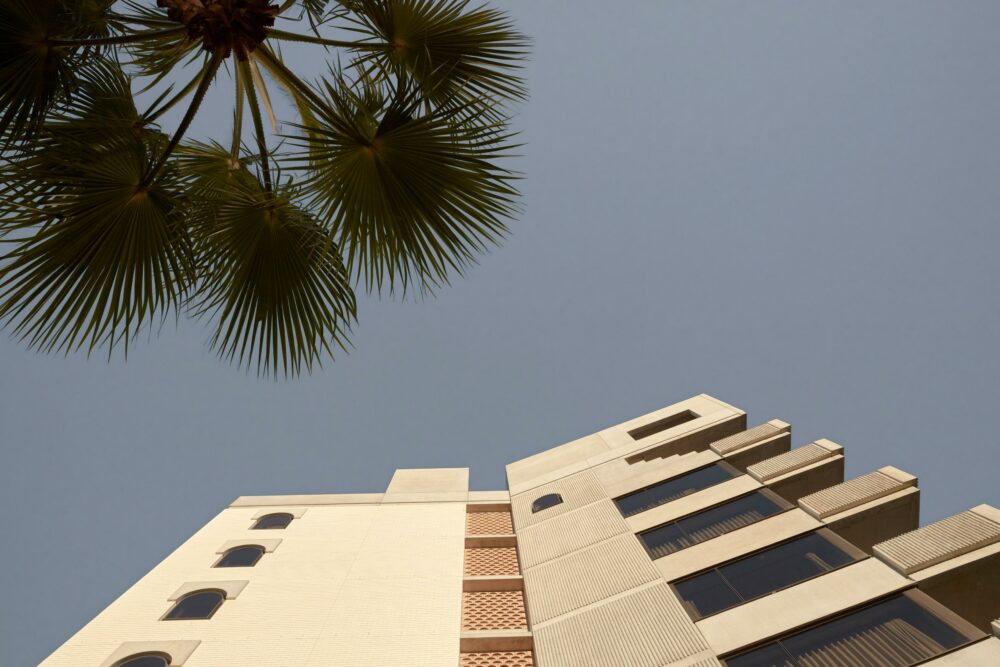 22/10/2021
Sustainable Steps
Hotel
The Calile resides in a sub-tropical location – hot days and balmy evenings are a reality in this warming world where it is tempting to retreat from the heat and blast sub-zero air-conditioning.
The Calile however has been designed with climate in mind.  Hotel circulation spaces are naturally ventilated – reducing dependence on power for cooling shared spaces 24-7, 365 days per year.  Corridors ventilate naturally via open-air lift lobbies and breezeblock aerated hallways – drawing the air through.
Rooms too welcome filtered airflow through private balconies, a simple and eco-friendly alternative to cooling. Each room is also set to eco mode – designed to sleep when not occupied.  When guests leave, air conditioning and lights turn to sleep mode and the block-out blinds close to eliminate energy waste. Upon returning, the room wakes up and resets to the preselected settings.
Wherever possible the architectural elements used have been ethically sourced.  A good example of this is the extensive use of cork throughout the rooms and the function spaces in place of carpet and wallpaper.  The bark of the cork tree can be harvested without cutting the tree down or clearing the land.  Cork trees are also experts at carbon capture, require no pesticides, irrigation or pruning and are harvested by hand – making this one of the most sustainable building products.  It also has natural thermal properties – which is why it has been used for centuries to protect wine against high temperatures.
Enduring materials have also been utilised throughout to give the hotel durability and a lifespan that extends beyond our single-use modern world.  Resilient materials of brick and concrete are used across internal and external spaces, whilst stone is used in areas requiring enhanced durability thereby reducing the need for replacement as the hotel ages.
Beyond the physical space, green initiatives have been implemented with the aim to reduce the hotel's footprint wherever possible.
An example is the minimal plastic policy.  This includes using all-glass drink products in the mini-bar and glass carafes in function spaces and restaurants instead of plastic bottles. It also extends to water in-rooms with each level hosting a micro-filtered water outlet for guests to refill the provided glassware instead of using bottled water.  This saves approximately 50,000 single-use bottles of water per year.
Green cleaning is also considered.  Guests are invited to re-use towels to limit waste on over-laundering and increase lifespan on manchester. Waste too is meticulously sorted via a comprehensive refuse sorting area in order to maximise recycling – with separate collections for glass, plastic, cardboard, general and kitchen waste.
At The Calile, we understand the importance of sustainable initiatives – it is part of the decision making process from the foundation upwards.  We also understand that despite the immensity of the challenge, the road to a cleaner, more sustainable world is made up of individuals and organisations making small steps.  In taking those small steps, we hope to set a path towards large scale improvement that will gain momentum and provide long-lasting impact.