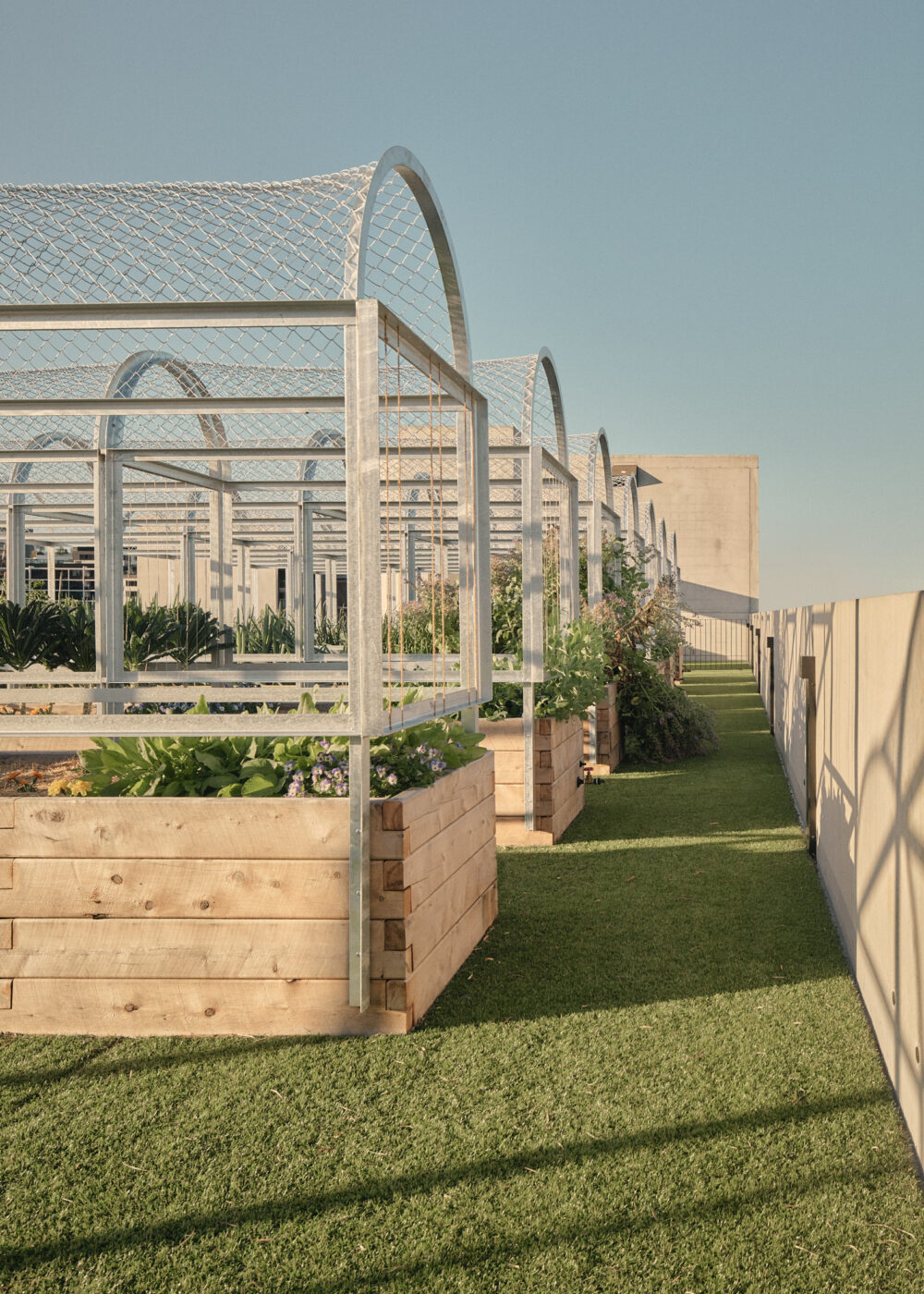 09/05/2021
Calile Gardens
Food, Hotel, James St
The grass is officially greener on The Calile side with our rooftop now home to an organic, edible garden and a hive of very happy busy bees.
Our backyard
Making the most of the sunshine, eight tidy wooden planter boxes now line the Doggett Street side of the hotel's roof. Installed earlier this year – French millet, buckwheat, mung bean and other legumes were the first crops to be planted, cultivated and composted in order to produce organic 'green manure' – soil for growing healthy, strong and nutrient-rich produce.
This month, the autumn crop was planted, featuring over 42 varieties of lettuce, sorrel, tomatoes, sugar snap peas, garlic and grapevines to name just a few. The seedlings have been selected to not only supply and compliment the menus of Lobby Bar and other in-house restaurants but to pay homage to the hotel owners' Lebanese heritage.
Lobby Bar Head Chef, Andy Gunn said, "The goal is to achieve zero waste, the menu is flexible enabling us to replace ingredients where required".  It's Andy, who alongside the Future Wild team, will continue to farm The Calile garden, "it sets Lobby Bar apart from other venues and as a chef, it's an amazing tool and privilege to have this on the roof," he said.
The produce has been planted with organic, biodynamic and permaculture principles in mind – by growing nasturtium, borage, marigolds and alyssum, pests will be organically controlled and the neighbouring honeybees fed. To overcome Brisbane's volatile weather, The Calile's architect, Ingrid Richards of Richards And Spence, has designed a custom-arched trellis to sit over the planters to encourage green canopy growth – made up of plants like grapevines, peas and cucumbers that will in turn, protect the crops.
The bees and the bees, no birds
No garden is complete without some welcome pollinators – bee tête-à-tête starts now. Four Langstroth hives take up residence next to the edible garden and play home to thousands of bees. There is one queen per hive and approximately 85% of the 'worker bees' are female (girl power!).
Each hive has ten frames (where the bees do their business) and each frame produces roughly 2.3 kilograms of honey. Sweet, sweet Calile honey will soon be stocked in our lobby shop, Museum of Small Things (M.O.S.T.) and be featured in Lobby Bar dishes.
Busy bee facts —
Resident Apiarist: Amy Murray
Bees do a 'waggle dance' to tell each other where to find the sweetest nectar in the area
Like us, bees prefer resort living, well, sunny warm days – they stay indoors when it's cloudy or raining
Calile honey is harvested in spring and summer
Rooftop hives will not increase the risk of being stung unless the bees feel threatened – hotel guests do not have access to the hives – so, there is no need to beeware!