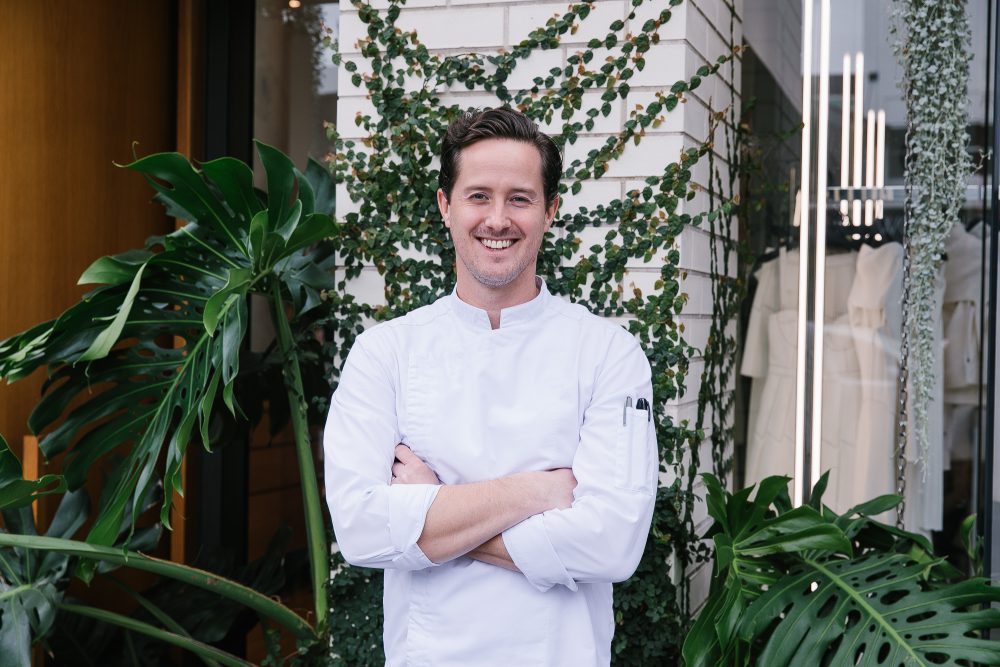 19/11/2021
Meet Mr Gunn
Food, Hotel, James St
A hotel lobby is often the first, last and most frequently visited area during a hotel stay. It's the hub of a hotel so to speak, with people coming, going or in our case passing time at Lobby Bar, where not only guests feel at home but locals too. A place to be social or socially removed, to enjoy simple pleasures or to indulge in new predilections and new flavours both of which are now being served thanks to partners (in the kitchen, and in life) Andrew (Andy) & Amélie Gunn. Craving a preview? Read on…
At breakfast, Andy's internationally inspired menu will give you that "anywhere in the world" feel. It's intercontinental but not in a traditional sense, rather the flavours are an expression of the kitchen team's worldly heritage.
Into her enticing dishes such as the Croque Monsieur, Amélie injects French flair, and Andy? Well, Mr Gunn has local, national, and international experience at one, two and three Michelin-starred restaurants – most notably, Le Cinq at Four Seasons Hotel Georg V in Paris. "I've spent a long time in Europe training and learning about food all around the world and have come back to Brisbane wanting to share that unique knowledge and experience," said Chef Andy.
For Lunch and Dinner, whether you have twenty minutes or two hours on your side, Lobby Bar has both light and hearty options for guests, passersby or those wishing to while away the hours… The range of dishes from a healthy lunch to a hearty, warm winter meal provides something for every appetite.
On Sundays, a brunch menu awaits those who took the opportunity for a leisurely lie-in and proffers dishes such as the 'Lobby Bar Breakfast' featuring a herbed omelette, sauteed mushrooms and bacon and the sweet French classic – Crepes, served with traditional toppings.
You may care to know that many of the ingredients arriving to your table care of the Lobby Bar kitchen haven't had to travel too far to get to you. How? Because they have simply been harvested directly from our own Calile rooftop garden and placed with care on your plate. Information on the garden can be found here if you are curious.
All menus are accompanied by an enviable drinks list (insert cocktails here) that includes our very own Calile coffee blend – an award wining flavour, roasted right here in Brisbane by Fortitude Coffee Roasters.
Let your palate do the travelling at Lobby Bar and allow the beautiful vibe along with the freshest local produce to transport you to the flavours of far-flung places all whist comfortably settled in the heart of The Calile.