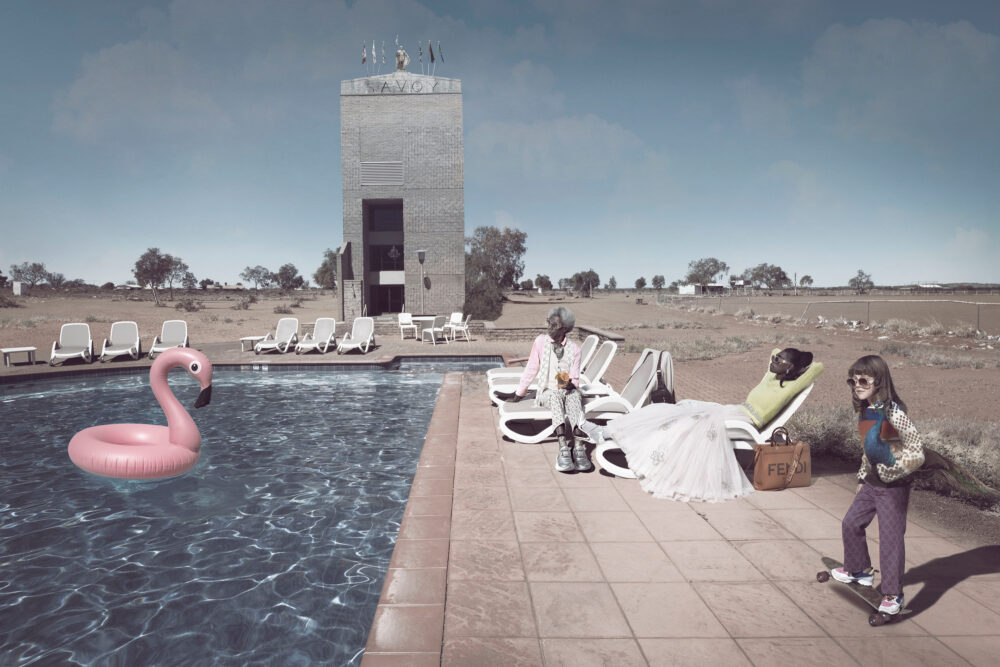 09/03/2023
Michael Cook: FAKE
Events, Hotel
Following on from our previous creative collaboration with artist Gerwyn Davies in 2022, The Calile Hotel has again joined forces with Jan Murphy Gallery to exhibit the work of an important Queensland-born artist.
Titled FAKE, a series of seven large-scale works by contemporary photographic artist Michael Cook will be on public display poolside from 31 March – 10 April 2023.
Local gallerist Jan Murphy and Cook, of Bidjara heritage, invited The Callie to host the exhibition – allowing the wider community to view and engage with Cook's new works beyond a gallery context.
"It's obvious when you set foot in The Calile that they do things differently. It has the feeling that you could be anywhere in the world, this 'otherworldliness' is something I try to bring to my work. I love the idea of visitors coming across this series on their way to the pool, or to get a drink, and stopping for a moment to consider a different perspective." – Michael Cook, 2023
Inspired by his personal story and the legacy of colonisation, Cook gently teases alternative possibilities of familiar narratives, inviting the viewer to experience the other side of the coin, roles in reversal and histories re-written.
Shot in remote locations in the central Australian desert, FAKE follows an Indigenous couple and their adopted child on a road trip and features international model Magnolia Maymuru and Richard Gala (a frequent collaborator and childhood friend of Cook's). Taking cues from high-end fashion and aspirational travel magazines, the couple are seen languishing by a pool in designer clothes and touring popular sites, including Uluru, with their child accompanied by his pet peacock.
Elements of the narrative mirror Cook's personal story, adopted at birth into a non-Indigenous family, he undertook long car journeys with his family across remote Australia and had a peacock as a pet.
The exploration of personal and national identity are storylines that Cook has examined for the past decade, with FAKE continuing this investigation. These images' beauty and gentle humour aim to open a deeper conversation about the social fabric and Australia's harsh history.
Cook cheekily places luxury brands and accessories, both real and counterfeit, throughout these images. This use of 'fake' items parallels the misuse of Indigenous motifs – similarly, co-opted without permission since the 1950s (often as souvenirs).
As we follow the story, the family gradually becomes more immersed in the natural settings – with the final image a celebration of the open landscape with the characters discarding the excesses of the designer and luxury items.
"They are celebrating that they have found a deeper connection back to country and culture. You could say that this reflects my journey in life – and a realisation of what is important and enduring in this world." – Michael Cook, 2023.
Be sure to discover Michael Cook's exhibition FAKE on public display on level one poolside from 31 March to 10 April 2023. The exhibition can be seen concurrently at Jan Murphy Gallery from 28 March to 22 April 2023.