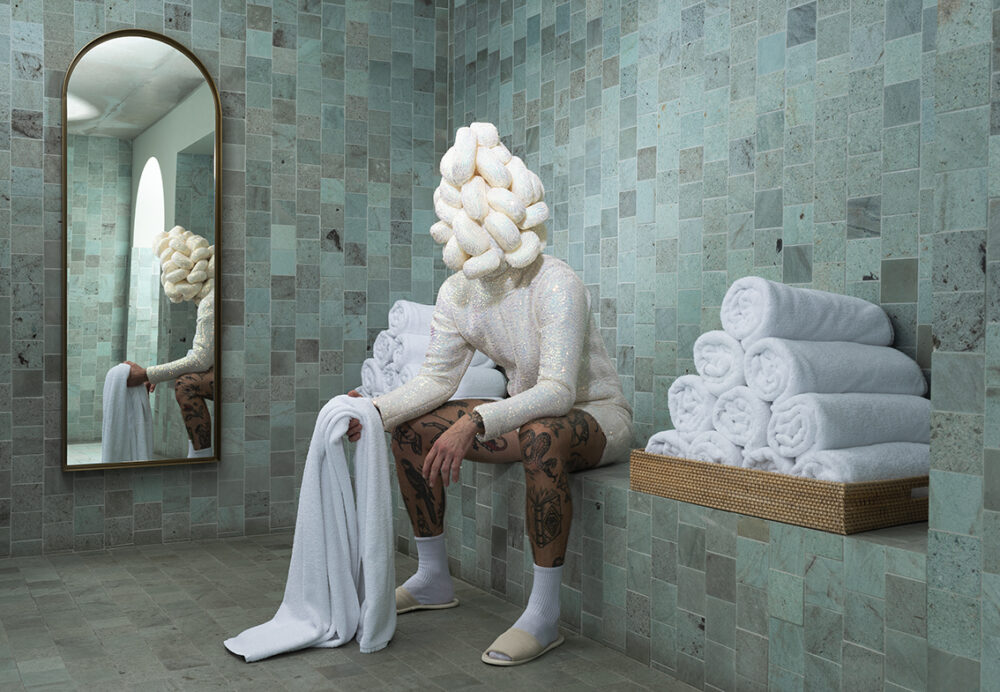 28/07/2022
A Meta-Art Moment
Fashion, Hotel
It's rare for The Calile to host a guest whose primary purpose is less swimming/shopping/relaxing/dining and more creating/investigating/crafting/performing. Especially when that guest also checks in with a rack full of colourfully outlandish costumes, a sewing machine and the license to explore the hotel architecture and hideaways from the rooftop to the basement all garbed in fantastical head-turning creations.
A rare and unconventional occurrence reserved for a rare and unconventional guest, in the form of Australian artist Gerwyn Davies. The hotel recently hosted Davies as he created his latest collection of works, Pleasure, with The Calile setting the scene for his costumed photographic creations.
"There is a kind of synergy between the space, The Calile, and the costumes I was making. Within The Calile there is very precise attention to detail around the surfaces and textures and symmetry of the spaces and areas. These are the kinds of things I am interested in with my photographs – and with the costumes," says Davies.
Once the process and performance of creation began, Davies reflected that his characters began to resemble a collection of guests who had overstayed their welcome – and in doing so had "taken over the hotel."
"They've all checked in together and then they have scattered and occupied every corner of the hotel and they have really made themselves at home – a collective of very playful misfits. For me they had moved in and had refused to check out."
Not surprisingly Davies' time at The Calile was met with amusement, bemusement and at times stunned silence from guests who crossed paths or stumbled across him in action. One guest inquiring why he was dressed as a disco ball (wearing a short red sequin jumpsuit), the immediate response being he was "on his way to a conference". Another polite guest studiously avoiding eye contact in a surreal elevator ride with Davies who at the time was dressed in a boilersuit and yellow fur head mask.
"When I did interact with guests there were one of two reactions – they either laughed and engaged or they completely shut down and pretended it was not happening."
The concept for Pleasure originated pre-pandemic two years prior to creation. Following an extensive site visit – Davies devised a colourful cast of characters who would ultimately check into the hotel for the three-day shoot/holiday – with a number of the remarkable costumes created in response to aspects of the hotel.
"I've got to have a clear idea of where I have to shoot and how it's going to look… but then when I step into the costume there is this kind of chaos thing that happens after that, and playfulness begins.
There are moments when I am doing that and posing, and I then have a vision of what I look like – and it makes me laugh. Then there is a moment of clarity and I realise how ridiculous it is and that kind of themes back into the performance.
Being able to shoot on location at The Calile was really enjoyable because I started interacting with the space more and more. For some reason my first impulse is that I always feel kind of sexy….
After a while I am pulling faces underneath the masks, I'm pouting, enjoying the soundtrack… and yep, yep people are watching. The gestures become really large and cartoonish and over the top, so I'm pulling these really dramatic poses which sometimes you are seen doing – and probably more so in this series than others – it really has to be kind of extra."
For Davies whose "real life" style comprises a mandatory cap, ankle socks sneakers and tattooed legs (as much a part of the artwork as the costumes) – The Calile journey and the creation of the collection has been, well… a "pleasure."
"I really enjoyed the experience of doing it in the hotel. I am normally very private about making the work and because I normally work in a studio on my own and I shoot on my own, it's always been very controlled, and I've been a little guarded about that process. But I think shooting this – being well-prepared with the costumes and relenting to the process – it's been really enjoyable."
In a meta-art moment, Davies and his colourful cast of Calile misfits will return to The Calile in photographic form with the Pleasure exhibition on public display on level 1 from 16 September to 4 October. Merchandise is available to purchase at Museum Of Small Things on the ground floor and Davies work is available to purchase from Jan Murphy Gallery.