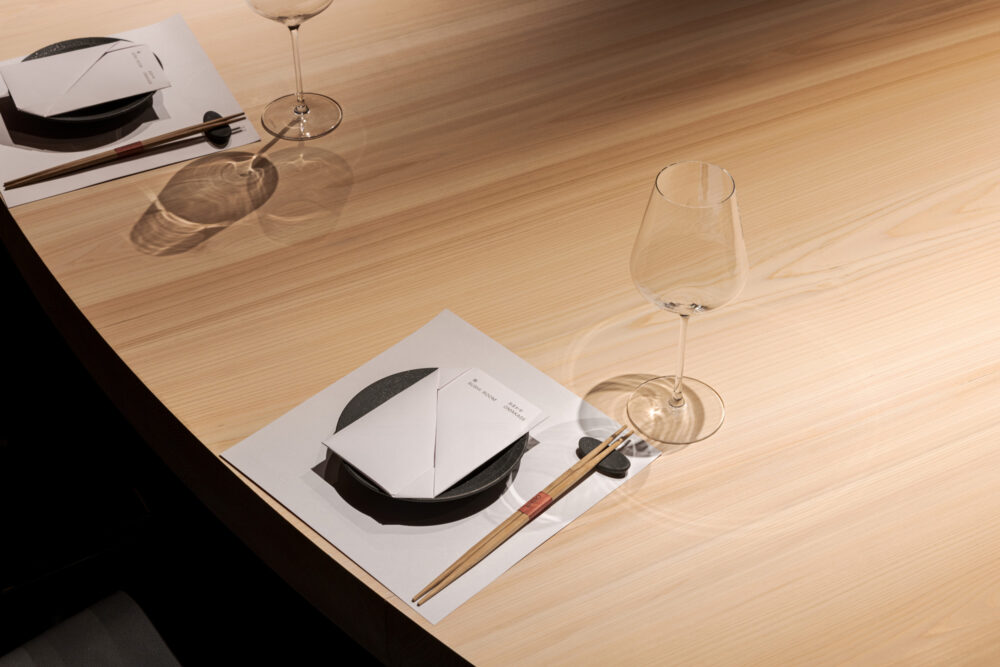 05/07/2022
Yōkoso Sushi Room
Food, Hotel, James St
Neo-futurist, elegance, design and Japanese fine dining are words not often seen in the same sentence. Well, that's until our new neighbour, Sushi Room arrived.
From the creators of Hellenika, SK Steak & Oyster and most recently Sunshine, comes Sushi Room, a fine dining Japanese experience where produce plays the lead character, and the dining event features a harmonious performance between quality, balance, and respect for Japanese culinary traditions.
When it came to the conceptualisation of Sushi Room, food without a doubt took centre stage, as Simon Gloftis, co-owner of Sushi Room explains.
"For me, it always begins with the food first. Because when you don't have that strong foundation of food, it won't work and it simply won't be real."
With each dish built on seasonal produce sourced and hand-picked from Australia's world-leading seafood purveyors, Sushi Room's extensive traditional menu celebrates time-honoured techniques.
Head Chef Shimpei Raikuni focuses on minimalism and the innate character of the ingredients.
"Simplicity, purity of flavour and intelligence will form the basis of this menu. It will be elegant and beautiful while at the same time simple, adhering to Japanese sensibilities and form." Raikuni says.
The Japanese menu is echoed in the drinks' list which is designed to be purposeful rather than extravagant. From sake, whisky, and Japanese cocktails to an international wine list, whether you're after something light and fresh, textual and balanced, to rich and complex, the thoughtfully curated menu makes for effortless navigation.
The design of the space? A visual and sensual satisfaction the moment you enter. Or as The Calile architects, Richards & Spence describe: a "Bond villain's lair." A delicate dance between Japanese traditions with stone and timber and a nostalgic abstraction of mid-century pop, the interiors of the space intentionally feature a minimalist approach to allow for a blank canvas where food is given the spotlight.
"The theatre of the sushi chef is prioritised in the space and exaggerated with cinematic lighting. Centre stage is a 9.3 metre solid Japanese Hinoki timber counter floating in a pool of black limestone," says Architect, Adrian Spence of Richards & Spence.
A host for up to 60 diners intimately, Sushi Room may be a special environment but it's not a one-off environment. With a mix of bar seating, booths and tables, and a private bar and dining area seating a cosy eight diners secreted away on the mezzanine level, it's the place to build memories around food, share great conversations and enjoy.
"We want diners to feel like they are in a comfortable yet serene environment while at the same time an environment with an atmosphere that can be enjoyed. It's the kind of place where you can dine for lunch and sit at the sushi bar, dress up and come for a special occasion or join us as the first stop after checking in or out from the hotel." Simon shares.
Find Sushi Room via the lobby of The Calile Hotel. Bookings are recommended.