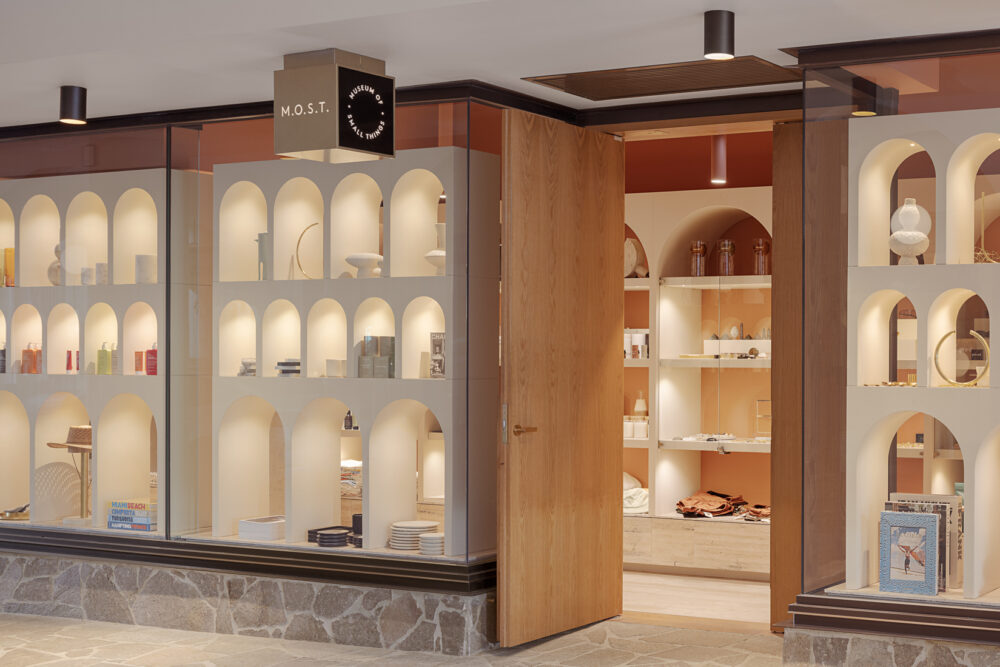 20/04/2022
M.O.S.T. in a new neighbourhood
Fashion, Hotel, James St
An intersection of art, culture, lifestyle, fashion and the finer things, The Museum of Small Things (M.O.S.T.) has been thoughtfully designed by our hotel architects Richards and Spence to have you feel like you're anywhere but in a hotel lobby shop.
The recent refurbishment now sees M.O.S.T. nestled in a brand-new location right between our Calile friends Venroy and Mister Zimi off Doggett Street. With an unmissable entranceway that swaps angles for arches for that added level of softness, as soon as you enter, you're invited to slow down, as you immerse into a space designed to inspire, and ground in your presence as you peacefully browse through the unique and thoughtful design of local creatives to find gift ideas, treasures, and all the mementos you can dream of (and more).
Store curator, Rebecca Malouf, shares that intention of the space is to create an offering that speaks to The Calile manner but has its own personality. "The ever-evolving mix of fashion, beauty, resort essentials and objects for the home draws are carefully considered from local creators, makers, and designers Australia-wide," she says.
Rebecca describes that the curation of the products consists of beautiful, well-designed, simple pieces making it a go-to location for lovers of leisure, art, luxury, and all things lifestyle.
"Often our customers are overwhelmed for choice, however, a few MOST-loved products include The Calile Hotel Venroy Linen Robes, the Slip Silk Pillowcases and Sleep Masks, By Charlotte's delicate selection of fine jewellery, and the Lack of Colour Designer Hats".
With each piece within M.O.S.T. individually hand-selected, the curation process seems simple for Rebecca, considering a lifetime of experience in the creative industry. However no matter the piece, one thing remains to be constant, and that is the shared vision between the shop and the talented Australian labels that feature within. And that is to inspire a more sustainable design industry, prioritising local manufacturing, the longevity of items, slow fashion and eco-conscious supply chains.
Knowing when a label is the right fit for the store is al-MOST second nature for Rebecca. When it comes to personal favourites, she admits that it becomes difficult to choose one from the offering. "I do not face the day without my holy grails; my morning refresh ComB Mānuka HoneyHai Oil and Face Oil, a spritz of the Who Is Elijah His/Her Perfume and my Lack of Colour Designer Hat", she reveals.
The brand-new cosy architectural space of M.O.S.T. provides guests and customers treasures for treat-yourself moments and all other essentials necessary for your stay at The Calile Hotel or for those who prefer their souvenirs more literal.
We invite you to come in and, come back often.