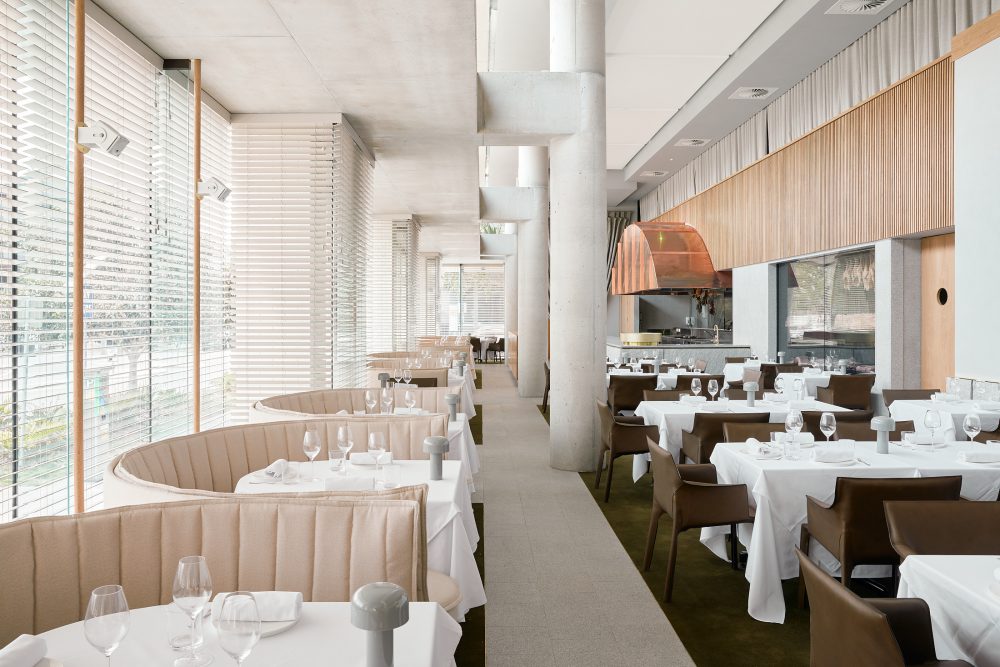 30/04/2019
Dine in: Series two – SK Steak & Oyster
Food, Hotel, James St
In the second of our "Dine in" series we profile Kelvin Andrews head chef of SK Steak & Oyster one of the three restaurants under The Calile roof.  We also asked him to share a recipe – so whilst we may be staying in, we can still enjoy a little taste of The Calile Hotel at home.
The grand dame of dining at The Calile. SK Steak & Oyster may be the youngest of our three resident restaurants, but it has rapidly earned a reputation for sophisticated dining and as a considered take on the classic bar and grill.
A restaurant in the true sense of the word, SK delivers quality, classic dining in an expansive space that caters to both formal and informal occasions. Choose a booth for a more intimate experience or sip drinks in style at the piano bar – whatever the preference, SK is a place to linger and enjoy.
Kelvin Andrews heads up the kitchen at SK and his expertise is reflected in the impeccably crafted menu.  What may appear a simple menu is deceptively complex in flavour and construction.
Kelvin, what makes residing in The Calile special?
The amazing building! You feel like you could be anywhere in the world at The Calile.
Where does your passion for food and cooking come from?
My mother, a pastry chef and restaurateur. I grew up in restaurants and I wouldn't do it any other way.
What are the basics we need to know? 
Buy the best produce you can.
What do customers love about your business? 
The simplicity, the elegance, the real proper restaurant feel.
What is your top piece of advice in relation to what you do? 
Be patient, be humble, be kind.  Control the controllables.
What is your go-to dish at home, when you are not in the commercial kitchen?
Definitely vegetarian based dishes – salads, soups, minestrone and wine.
What is your favourite dish to cook when you are on holidays?
Pasta or risotto – my Italian roots really come through!
How often, if ever, do you dine in the restaurant as a guest?
Whenever I can. It's important to fully divest yourself and see it as a customer to really get a feel for it.
How does your team refer to you "Yes Chef!" or ………………. ?
Kelvin!
Need to know
Cuisine: Classic bar and grill
Dining:  Lunch and dinner
Style:  Elegant bar and grill
Recommendation:
Snack: Freshly shucked oysters
Dine: Kiwami sirloin
Drink: Dry martini
Dessert: Dirty martini
SK Mushroom Risotto
Serves 4
Ingredients
1kg button or field mushrooms
320g arborio rice
100g chestnut mushrooms
1L filtered water
½ bunch thyme
1 large French shallot finely diced
50g butter
50g crème fraiche
100ml white wine
Salt
Pepper
Method for stock
Using your hands crush the mushrooms and place in a saucepan and cover with the filtered water and ½ of the thyme.
Let simmer for 20 minutes then let cool for a further 20 minutes.
Strain the stock and squeeze excess juice out of the mushrooms to capture all the flavour.
Method for risotto
In a heavy based pan add the diced shallot and sauté without colouring, add the rice and sauté for 5 minutes, also without colouring.
Add white wine and the rest of the thyme (finely chopped) then slowly add the mushroom stock 1 ladle at a time, constantly stirring so it doesn't catch on the base of the pan, once you've added all the stock the rice should be cooked, if not add a touch of water, then just before serving add the butter and crème fraiche and season well, should be nice and loose, consistency of porridge.
Let rest for 2 minutes.
To serve
While resting in a separate pan sauté the chestnut mushrooms till golden brown and season.
Place the rice in four serving bowls and top off with mushrooms.
Can finish with a drizzle of extra virgin olive oil
Visit the SK Steak & Oyster website: sk-so.com