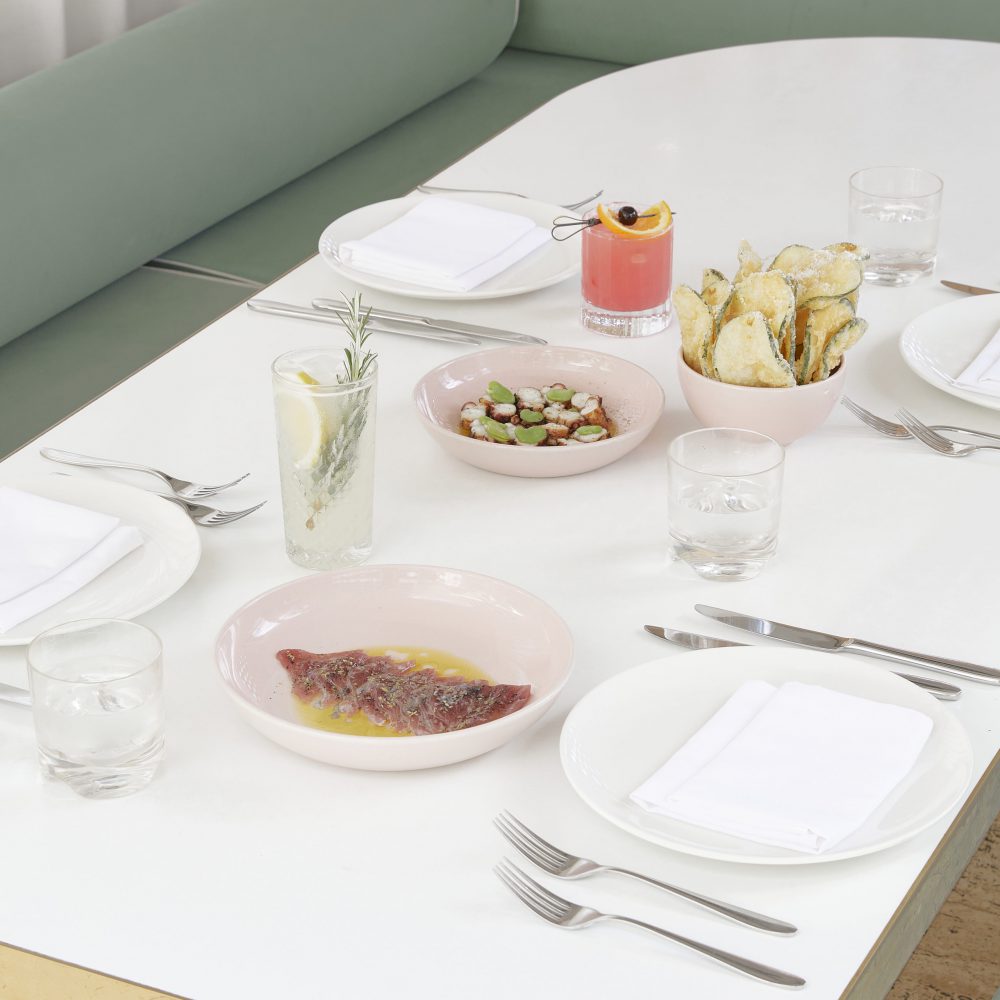 30/04/2019
Dine in: Series one – Hellenika
Food, Hotel, James St
"Dining in" has taken on a whole new meaning this year, so we thought it would be an appropriate time to stop and appreciate our inhouse venues and the talented chefs that have defined the flavours of The Calile.
Food has the social power to unite people – dining is about coming together to stay connected and to enjoy the company of others over cuisine and conversation.
In the first of our series, we spoke with the head chef of Hellenika, Brian Kelly. We also asked him to share a recipe – so whilst we may be staying in, we can still enjoy a little taste of The Calile Hotel at home.
A restaurant that requires little introduction, award winning Hellenika has re-invigorated the grand tradition of hotel dining. In this culinary haven overlooking the pool deck you'll find authentic Greek fare with a modern twist, alfresco dining, poolside bites and a comprehensive wine list to match. Hellenika serves the highest quality, freshly sourced produce and champions authentic Greek cuisine, and hospitality.
Head Chef Brian Kelly presides over the Hellenika kitchen and is responsible for countless contented customers and memorable dining experiences.
Brian, what makes residing in The Calile special?
Having been part of the Hellenika story for 10 years, when I received a call from Simon to suggest opening a new chapter in our history in Brisbane, I knew it would be a great opportunity. Also being housed in Brisbane's newest 5-star boutique hotel on James St meant the challenge became immense. James St has a village feel and The Calile seems the hub of operations – it's a privilege being part of its continued success.
Where does your passion for food and cooking come from?
My passion for cooking started at a seafood restaurant in the UK, like a lot of chefs I started as a kitchen hand learning the basics of cooking and understanding the importance of identifying quality ingredients and when to use them at their best.
As my career developed it gave me the opportunity to travel and experience other cultures and cuisines with the southern Mediterranean being a favourite of mine. I have been very fortunate to work with some great chefs along the way who have provided me with some of their great knowledge which I feel has enhanced my enthusiasm for this wonderful industry.
What are the basics we need to know? 
Authentic Greek fare with a modern touch using the best produce on offer in Australia. Hellenika is all about bringing people together to enjoy each other's company and enjoy some wonderful food. We are a Greek restaurant using the best Australian produce on offer, whether its calamari or octopus from South Australia or the best tomatoes from Noosa, I endeavour to track down ingredients that I think will suit our menu and clientele.
What do customers love about your business? 
When I think of our food at Hellenika I always think it's the addictive flavours which make our customers want to return. The main pillars of our menu are lemon juice, olive oil & oregano but also cooking over charcoal to enhance these flavours or dressing some raw fish, this is why I believe people return. We can all cook like this at home ……at Hellenika we just throw in some great service and wonderful ambience.
What's an insider secret that many people might not know about your business?
When Simon asked me to join Hellenika 10 years ago on the Gold Coast, to be part of its foundations from day 1 – I was blown away by his passion for good food. For me and him to have created dishes that are still on our menu to this day – that is something I'm very proud of while also being a big part of the next chapter.
What is your top piece of advice in relation to what you do? 
From the age of 17 I knew I wanted to be a chef, (albeit older than others) but I soon realised it was something I enjoyed however it requires dedication. Starting as an apprentice you really learn the foundations of cookery but also the hard work involved. Teaching my junior chefs the basics is what gives me so much satisfaction but also trying to instil the passion for creating dishes is what drives me.
What is your go-to dish at home, when you are not in the commercial kitchen?
Cooking at home is very rare, mainly due to time restraints in our busy week – but Mondays are my favourite. Usually I would pop down to James St market and pick up a nice piece of fish, maybe a Coral Trout fillet or some local prawns. My larder at home is much the same as work, lots of Mediterranean flavours!!!!
What is your favourite dish to cook when you are on holidays?
It has to be seafood. Visiting local food markets abroad has to be my favourite obsession and if I'm in Europe then cooking a whole fish such as Seabass or Turbot – this to me is the ultimate meal at home.
How often, if ever, do you dine in the restaurant as a guest?
Dining for me at Hellenika is so important, at least once a month maybe two. So much of what we offer on the menu is seasonal, to truly grasp the flavours I feel it's important to dine as a guest. I also really enjoy the atmosphere and our front of house team are very talented so why not take advantage?
How does your team refer to you "Yes Chef!" or ……………….?
I do prefer a Yes Chef or Oui Chef when dealing with staff. Our industry is changing so much but the fundamentals of respect and camaraderie should never wane.
When sitting in the main dining area at Hellenika the kitchen plays such a prominent part, almost a theatre in play. I'm so proud that my team look the part but also that they maintain a level of professionalism in creating the perfect dining experience for our guests.
Need to know
Cuisine: Greek, specializing is share plates
Dining: Breakfast, lunch and dinner
Style: In restaurant -Relaxed but chic
Poolside – Swimsuit and robe
Recommendation:
Breakfast:  Eggs with eggs with eggs
Snack:  Kolokithia (Zucchini chips)
Dine:  Anything from the fresh fish market menu
Drink: Ari Onassis
Dessert: Galaktoboureko
Hellenika Spanakopita (Spinach and Cheese Pie)
This Spanakopita recipe is great for making a large pie, you can use filo, puff or even short pastry, once cooked can be enjoyed hot or cold.
Ingredients
200g ricotta
100g Bulgarian fetta
100g Australian fetta
100g Parmesan
4 bunches of English spinach, washed very well and cut in half
1 bunch of spring onion, chopped
2 eggs
1 teaspoon nutmeg
1 teaspoon white pepper
½ bunch parsley, chopped
½ bunch dill, chopped
1 packet filo (puff or short pastry if you choose)
250g clarified butter
Method
Begin by mixing all the cheese together
Steam the spinach and spring onion. Drain then once cooled squeeze moisture out to form a ball. Chop finely and add to cheese mixture.
Add breadcrumbs to dry the mixture, this should be quite firm, then add the seasoning and herbs.
Using a cake tin, place your pastry on the bottom and layer it so you leave some to overlap.
Place the spinach mix in the centre and spread evenly, now fold the pastry over to seal.
Using a pastry brush coat the pastry with the butter quite liberally, let this sit in the fridge for 20 mins to set.
Bake at 180c for 25 mins
Eat hot or cold
Visit the Hellenika website: hellenika.com.au