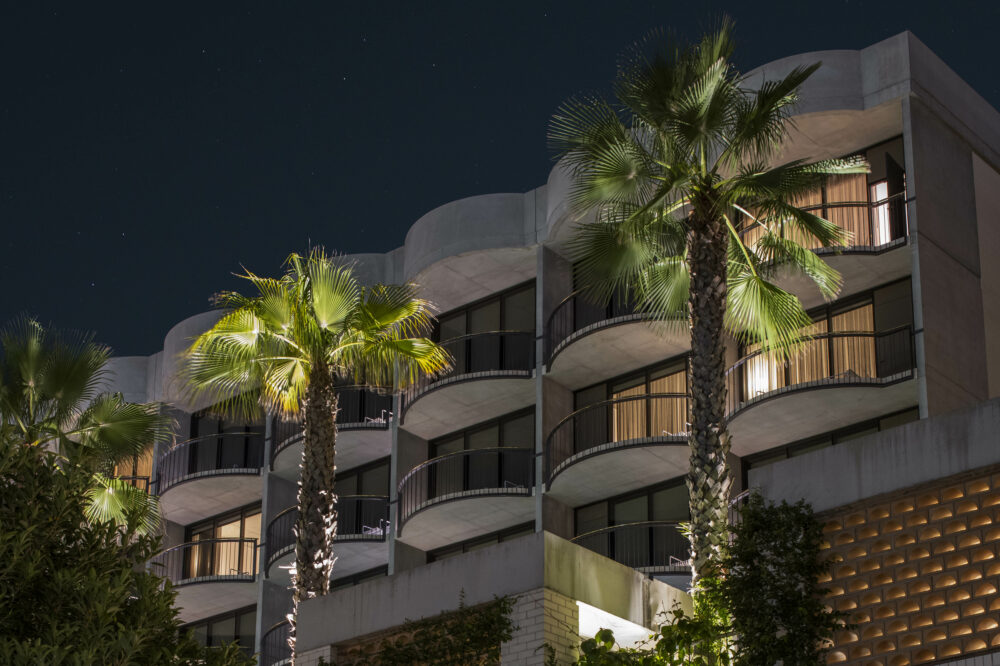 09/05/2022
Calile Nights
Hotel, James St
As the sun goes down, the lights go on to signal a new realm of possibility, mystery, and frivolity for us at The Calile.
While many may be familiar with Calile by day, given that "unexpected" is our middle name. We thought we'd switch the lights and the lens to invite you into our world at night.
Whether you're a guest, an in-the-know local, or a visitor, The Calile on sundown becomes an alluring destination for all, as it delicately dances between its daytime counterpart while holding its own.
A blur between being and doing, eating and drinking, solitude and socialising, let's just say wherever the night takes you, you'll surely be spoiled with the possibilities.
For those seeking a dash of frivolity, start your evening by kicking back, relaxing, and sipping on an aperitif by The Calile poolside. The perfect vantage point to watch the sun dip.
For those seeking a quiet night in (perhaps dressed in our Venroy linen robe), set the mood by giving our guest services a call and request a Calile Cube to shake up your own sAme sAme cocktail from your mini-bar and soak in the sunset view as you imbibe on your balcony.
As for the architecture at the night, no details were spared, and every touchpoint considered, with intelligent design to invite one thing: curiosity. The Calile's architect, Ingrid Richards of Richards & Spence says,
"Illuminated interiors activate hospitality venues – inviting participation in nighttime activities. The network of laneways and courtyards that make up a precinct that invites a sense of discovery."
And as for our hotel's precinct and surrounds, it comes to life at night with twilight activity. Where Ada Lane transforms into a dining epi-centre for visitors and locals alike. To quote Tyron Simon, restauranteur of sAme sAme, L.O.S. and BIÀNCA:
"On the surface, the light and breezy buildings tend to encourage long lunches. However, as the sun sets, the clever lighting takes hold and transforms the once bright Calile precinct into a moody dining hub." 
With an atmosphere, social milieu, and energy that's palpable yet infectious, a Calile evening morphs effortlessly to every mood and taste. A gentle warning though: it's an experience that will likely leave you wanting more.
"Never too frenzied or hectic – evenings in the street have more of a gentle community vibe where people come to eat, stroll or just gather to buy an ice cream and enjoy the twilight buzz." Marie-Louise Theile of James Street Initiative shares.
With several eating, drinking, and entertainment experiences to choose from, each setting features its own individual identity, yet feels whole with the sum of its greater parts. Enjoy separately or together, all in one night. The adventure is yours.
And if you're a Friend Of Calile? Be sure to redeem your ever favourite Calile Spritz at The Lobby Bar, Hellenika, sAme sAme, or SK Steak & Oyster to set the tone for the rest of your night.
We invite you to explore Calile by Night, here.