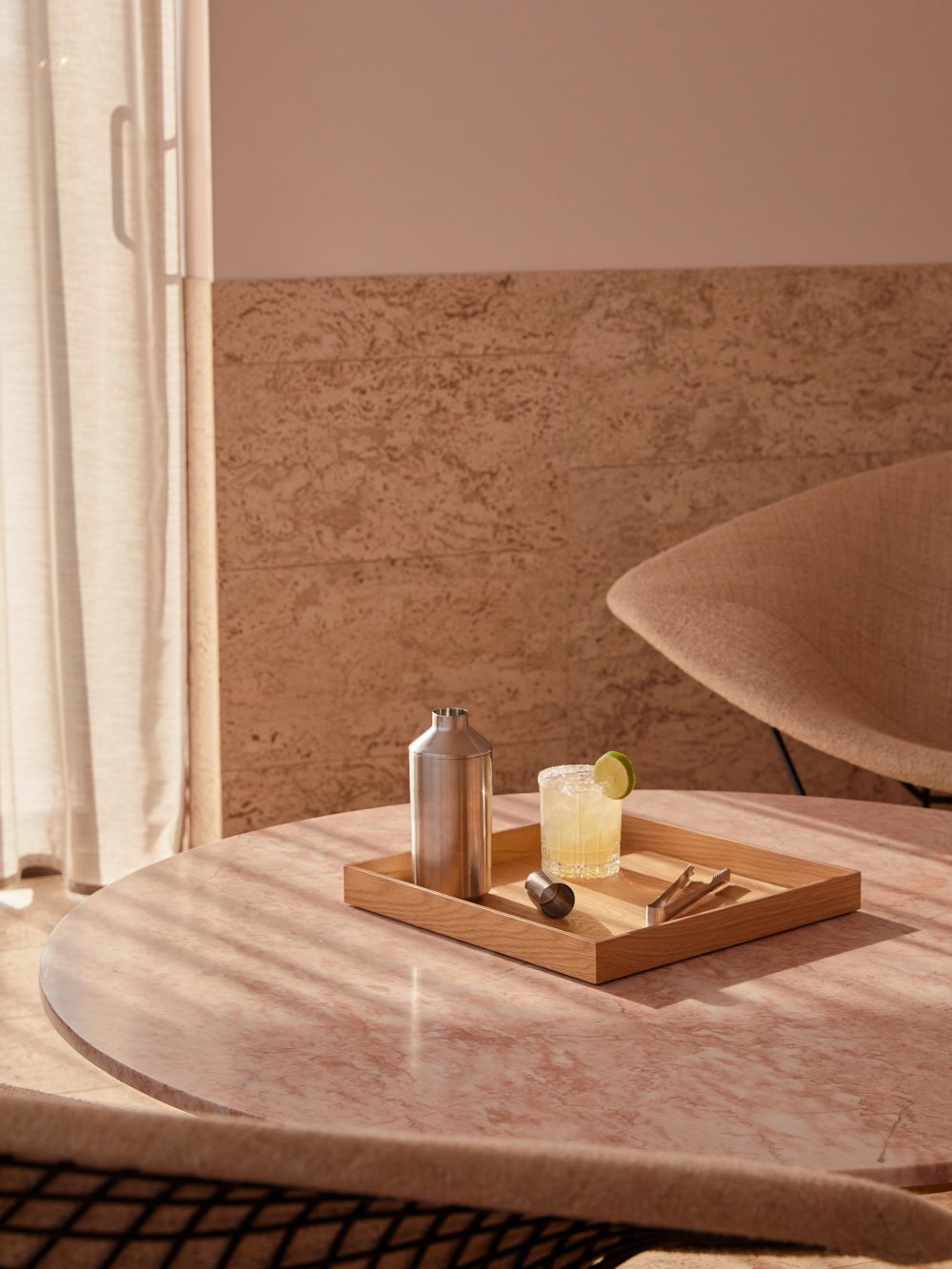 13/01/2021
The Calile Cocktail Cube
Food, Hotel
We know our rooms are good and that they are hard to leave – so, as considerate hosts, we have been dreaming up ways for our rooms to be even more enjoyable.  Is that even possible? We're glad you asked, enter The Calile Cocktail Cube – a customised all-in-one cocktail kit complete with uncompromising batch-made cocktails by the expert mixologists at neighbouring restaurant sAme sAme.
The thoughtfully assembled Calile Cocktail Cube is a neat natural oak box delivered to your room containing all the mixologist tools of the trade including, cocktail shaker, ice bucket, glassware as well as considered garnishes for each of the four cocktails available. The drinks themselves are already on the scene, carefully tucked into your in-room bar fridge having been carefully batched by the team at sAme sAme.
Group Bar Manager, Cody Kings led the cocktail mixing process.  Cody presides over all things liquid at the three restaurants in the sAme sAme family including Agnes and Honto – if you know anything about the Brisbane dining scene, then you know that these venues speak for themselves and that your tastebuds are in for a delight.
We asked Cody about the Calile Cocktail Cube over a tipple and weren't disappointed:
What cocktails are part of the Calile Cocktail Cube?
The Calile Spritz (The Calile signature drink), Tommy's Margarita (sAme sAme signature drink) as well as two classics, Negroni and Espresso Martini.
How did you decide which cocktails were included?
The Calile Spritz was selected for obvious reasons. We believe that Tequila cocktails, and especially Tommy's Margaritas will be the drink of choice this summer, so we couldn't go past that! Espresso Martinis and Negronis are two classics loved by all, and drinks that we thought would appeal to The Calile guest. The Calile Spritz was a cocktail that we created especially for The Calile and one that we thought would be especially amazing on a balcony or even while relaxing by the pool!
What's key to ensuring the perfect Espresso Martini foam? Is this difficult to achieve in batch form? 
This was something that we spent some time thinking about! After several experiments, we found that shaking the bottle extremely hard for about 10 seconds or so, created a great foam that lasted for a long time without needing to be shaken over ice – although shaking with ice is going to yield the best results!
What's your number one tip for people mixing their own cocktails in-room? For example, is it possible to over shake? 
Yes! You definitely can overshake. My tips are these; add lots of ice to your cocktail shaker and shake REALLY hard, but only for 10 seconds or until the shaker has frosted over; then strain straight away into a CHILLED glass. The Negroni does not need any dilution, so it can be poured straight into a chilled glass over ice and enjoyed straight away!
Are the drinks pre-batched onsite? 
We have been batching and bottling all of the cocktails at a bottling facility owned by our friends Good Happy Kombucha.
What's the story behind the medicine bottles – are these custom created? 
We had a couple of things to consider when it came to the shape of the bottles. Firstly, we wanted them to fit with the aesthetic of the hotel, as well as our own brand and the medicine/hip-flask bottles had a great look to them that we loved. Secondly, we had to think of the practicality of the bottle and in particular, how they would fit in the in-room bar.
Our in-room cocktail kit will change what you expect from a hotel room minibar – why settle for a vodka soda when a perfectly mixed margarita is just a shake away?
What does this all mean for you? Well, it means that you don't have to leave the comfort of your room, or even put on pants to enjoy the finest cocktails…. bottoms up!
To Note:
– The Calile Cocktail Cube is available to order via in-room dining or is book-able as an add-on at the time of booking.
– The Calile Cocktail Cube is for in-room use only.