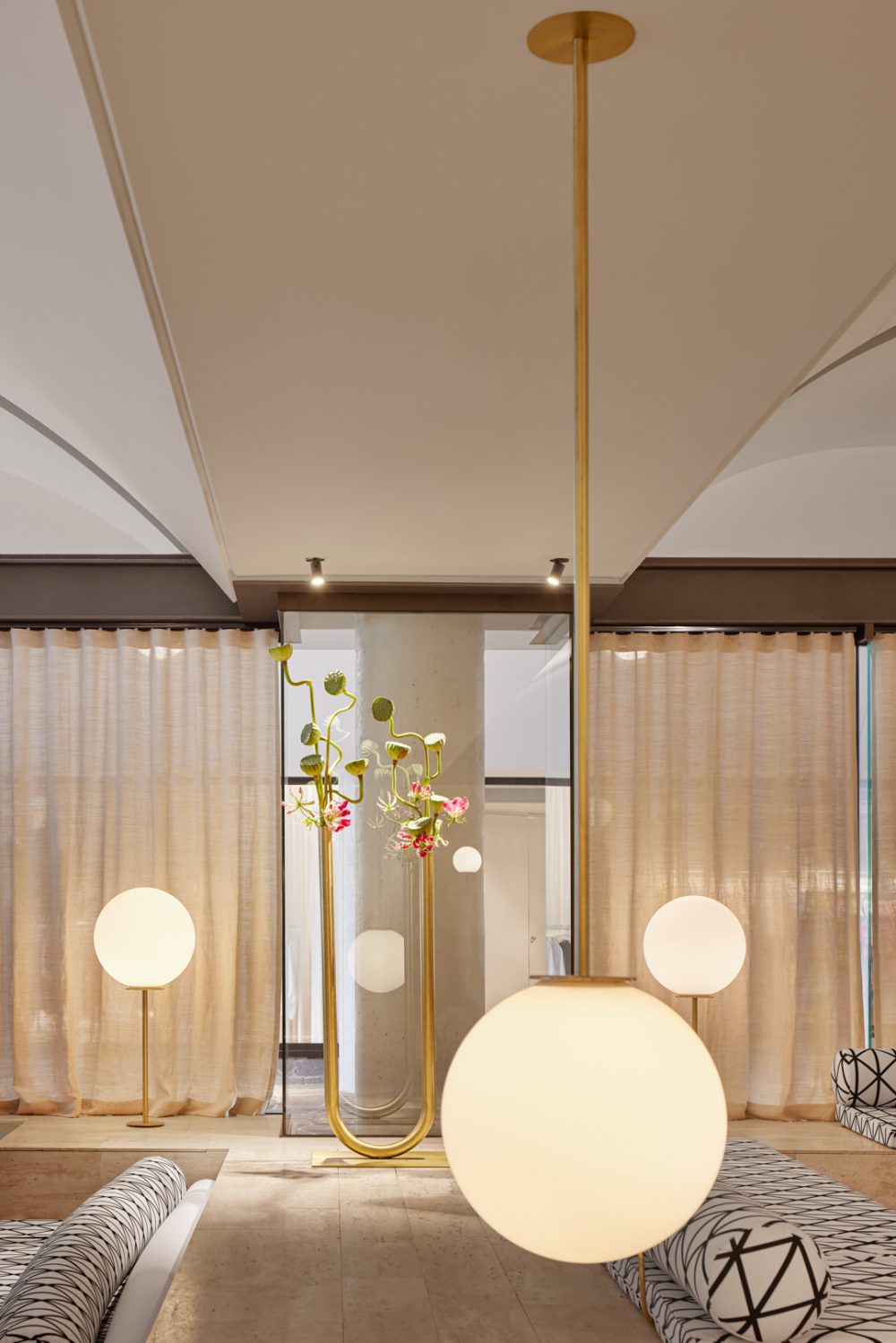 01/04/2021
Calile Creatives: Ani Wilson
Hotel, James St
3:30am wake up calls and unplanned foraging is a normal day for  Ani Wilson – The Calile's go-to floral artist. With an emphasis on sustainability and roots in floristry, Ani of The Stone Willow Studio creates unexpected arrangements for our lobby that are at once beautiful, playful and curious.  Ani has serious flower power and we spoke with her about business practices, design aesthetics and her favourite flower…yes, she has narrowed it down to just one.
Your floral designs take cues from Japanese Ikebana – what inspires you about this artistic approach?
The use of mass, line, asymmetry and the significance of negative space is what originally drew me to Ikebana. The simplicity of the lines created in Ikebana, elegantly showcase the best aspects of natural materials in a way that Western styles of floristry often overlook or overwhelm. The emphasis on using seasonal materials from the garden, or materials that are foraged, also adds to the inspiration that Ikebana provides, and means I am always on the lookout for new, unconventional materials to create with.
Anna Varendorff behind a.c.v studio is The Calile's floral vessel designer of choice – as artworks in their own right, tell us about your approach to creating arrangements in these. They aren't by any means traditional vases, does it make it more challenging, or does it drive new and unexpected creative decisions?
I have so much fun creating arrangements in Anna's vases, I've coveted her work for years and count myself lucky to style flowers in the vase designed for the hotel's lobby each week. The challenge lies in the editing – the minimalist vases were not designed to hold a lot of stems, so choosing the right materials that will not only fit but will have an impact is key. Having limitations is always bound to drive unexpected outcomes and sometimes force creative decisions that one would not normally think of, working with Anna's vases has definitely made me look and work with materials in a different way.
How frequently does the masterpiece in the lobby change and how long does it take to create? What do you hope the reaction of visitors is when they view your work for the very first time?
I create something new once a week and depending on how much editing I have to do of materials, and how smoothly a concept can translate from my head to the vase, it can take me anywhere from fifteen minutes to an hour. I hope the first reaction of visitors when they see my work is curiosity!
The Stone Willow Studio ethos is grounded very much in sustainability. What are some of your common business practices that speak to this?
I only use Australian grown fresh flowers, or materials that are foraged, which means that everything I use is seasonal.
Although it is not glamorous to talk about, I try to think sustainably about waste. Green waste is separated and composted, while cardboard, plastic, rubber bands and staples are all recycled or reused. I don't use floral foam for any of my work, it is toxic, terrible for humans and the environment. I prefer to use a combination of chicken wire and a Japanese Ikebana tool called a Kenzan to form the mechanics inside the vases.
How can people be more sustainably-minded from a floral perspective? 
As a consumer, I think it is important to ask where your flowers are grown. Australia has some of the most beautiful flowers in the world and incredible flower farmers that work hard to grow them – buying imported flowers not only hurts the local industry, but it has a horrific carbon impact.
In addition to running The Stone Willow Studio, you have also established Mötley Bunch – a charitable floral initiative. Tell us more about this admirable project.
The idea for Mötley Bunch was formed at the start of my floristry career when I briefly did some freelance work for a flower shop. I was shocked when I realised that it was common practice for florists to pack down weddings and events and throw all of the flowers in the general waste bin when the event was over. It seemed ridiculous to me that people were spending thousands of dollars on flowers, only for them to be heading to landfill less than 24 hours later. Mötley Bunch is a service that packs down event flowers, and instead of disposing of them irresponsibly, we give the flowers a second life by rearranging them and donating them to charity.
Is it true that you call vases vessels? Please explain… 
I do! Although I am not sure where I picked it up, Vase, Vessel, Container, they are all interchangeable in my lexicon.
Do you have a favourite flower? Is that even possible for a flower artist?
My favourite flower is Monotropa Uniflora, the common name is Ghost Plant or Indian Pipe.  It usually grows from beneath dense forest floors, and due to the fact that it lacks chlorophyll, it looks like a ghostly flower emerging from the ground. It is absolutely shockingly beautiful and ethereal to experience in real life.