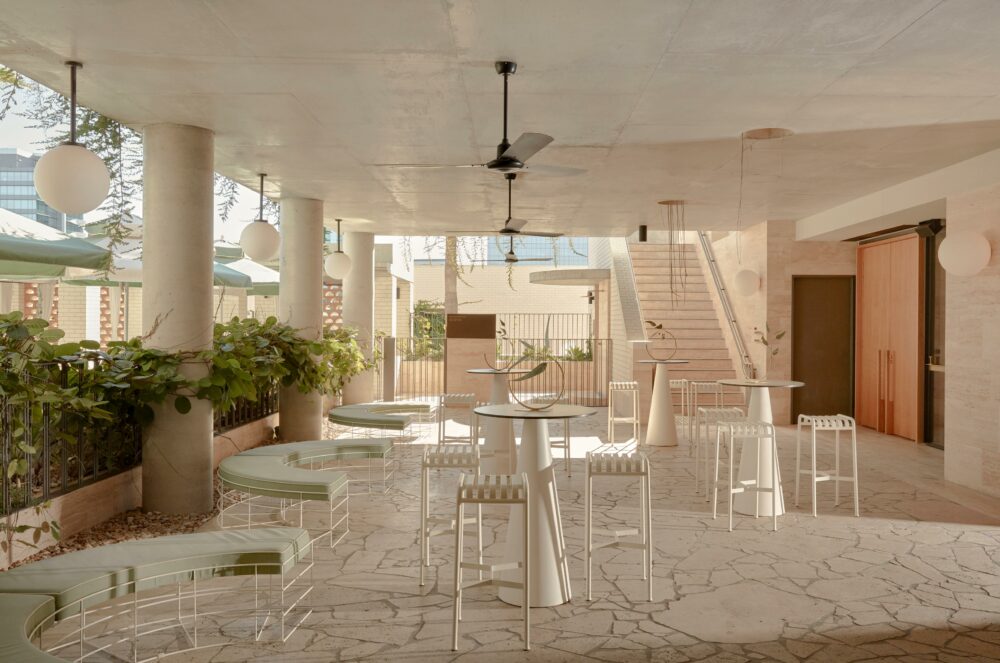 02/11/2022
Where business meets pleasure
Food, Hotel
Some may know us at The Calile as a place to relax, retreat and reinvigorate. Some may remember us as a place where milestones were celebrated, ideas came to fruition, and unforgettable memories were made.
Whether it be a corporate conference, gala dinner, a grand (or intimate) affair for love, philanthropy, or business, no matter the occasion, one thing is for certain: no stone will be left unturned when it comes to the design of your event experience.
Beginning with the event space, every detail has been thought of, "From natural light streaming through stunning arched windows to cork flooring for the benefit of acoustics to the ceiling curved to the signature Calile arch and the state-of-the-art AV, everything from the design, the aesthetics, the versatility, and the convenience all come together to create a truly perfect setting for our guests."  Says Events Executive Marissa Berndt.
There are up to 10 event spaces that can be configured for use, including outdoor break-out spaces, a rooftop, an amphitheatre, board rooms and a Grand Room that divides into four versatile spaces. Fit for hosting multiple events from a 250-guest gala dinner to residential conferences, intimate meetings, weddings and everything in between, the sales and events teams will ensure your event dreams turn into reality. For all events, no matter the size or occasion, the events team will ensure all guests feel welcome, supported and at ease through each touchpoint of the event planning journey.
What goes hand-in-hand with a great event? Great food, of course. And, for Adam Lyons, Banquet Head Chef at The Calile Hotel, whether it be canapes, mains, or dessert, no dish leaves the kitchen until it has his tick of quality and menu innovation approval.
"The idea behind the menu is to do something new, something I had never done before. That is one of the biggest drives behind what we do in events at The Calile". Chef Adam shares.
Alongside the delivery of high-quality and fresh food are the concepts of sustainability and supporting local businesses. Coming from the Coral Coast in North Queensland, the Barramundi used is sustainably farmed in fresh saltwater, another case is the prime cut of John Dee beef which is 150-day minimum grain fed located on the southern darling downs at Inglewood, just to mention a couple of examples. Paired with fresh ingredients from The Calile rooftop garden, the produce used is almost entirely from local farmers across Queensland.
The fusion of the backdrop, the moment, the menu, and your event vision will be sure to be the recipe for an unforgettable day (or night).
To find out more about our event spaces, and how the event planning team can help bring your event vision to life, click here.
And if you (or your guests) are looking for a place to retreat or rest your head (and perhaps your dancing feet), be sure to let the event team know. We've got you covered with accommodation only a few levels up.