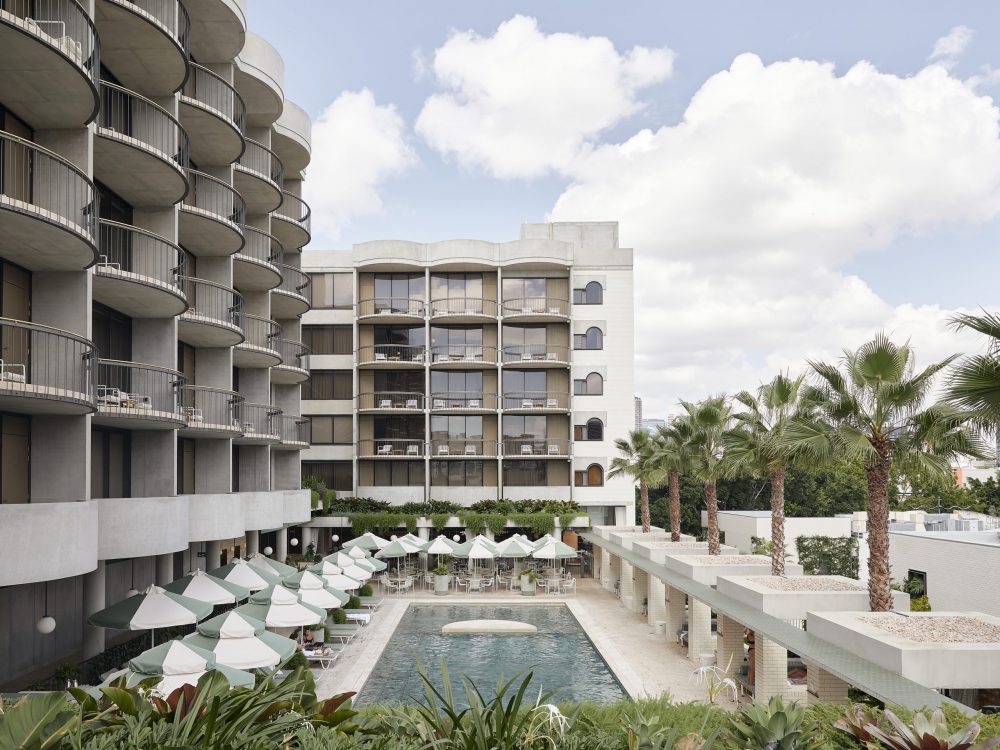 04/10/2018
The Build
Hotel
"When we design a place it has to feel like it has atmosphere with no one in it. Then when you actually fill it up with people, that is when it feels fantastic." (Nick Jones Founder of Soho House and The Ned)
For now, The Calile is empty – except of course for the 220 labourers working around the clock in preparation for when it will open its doors. But already it has an atmosphere of sheer anticipation as the formation and structure begins to take form.
For the past 585 days, the Hutchinson Builders team have worked tirelessly and meticulously to build this architectural gem that will signify a new exciting era in the already bustling James Street.
270,000 white bricks have been carefully positioned forming exquisite archways, exterior facades and spacious outdoor areas embracing our tropical climate in the most luxurious way. Bringing the outside in – and the inside out is integral to The Calile experience. Again in the words of Nick Jones…..
"We always try to make the most of our blue-sky spaces so you can make the most of them too."
The Calile promises to do exactly this. With a spectacular pool measuring 27 metres by 8 metres – (that's 200,000 litres of cool calm enticing water) lined with light green stone tiles and a Turkish travertine surround – poolside at The Calile will be a wonderful place to be.
7 individual cabanas will line the pool – hidden from the world with lush plantings and 7,800 custom-designed breeze blocks.
"The breeze blocks are an architectural device used for ventilation – we collectively associate them with hot weather places again reinforcing a sense of place," says architect Adrian Spence.
12 architectural stairwells too will add to the feel of breezy spaces and wide walkways. Of note is the main staircase reminiscent of the glamour of another era as it gracefully winds its way from the Lobby to the pool.
Hutchinson's Contract Administrator Nish Ram describes the build as bespoke.
"The design and layout of the hotel is different with very little repetition involved. This meant that a majority of the structure has been a custom build and not something a jump form hydraulic system could serve," says Ram.
"The use of class 2 formwork is quite rare to achieve successfully as most builders will not take the risk due to the added time and cost."
Beautiful Brickwork arches are also unique on the project, the largest of which spans 10 metres in diameter on Doggett Street."
"We have also had 850+ precast panels on the project to date – which is quite an incredible statistic given each panel takes an average of 30 minutes to install."
A unique offering is key to the success of any business. For travelers and locals alike there is a thirst for the authentic, for purpose and for a sense of destination.
From the vison to the plans to the current building site, The Calile fulfills this brief.