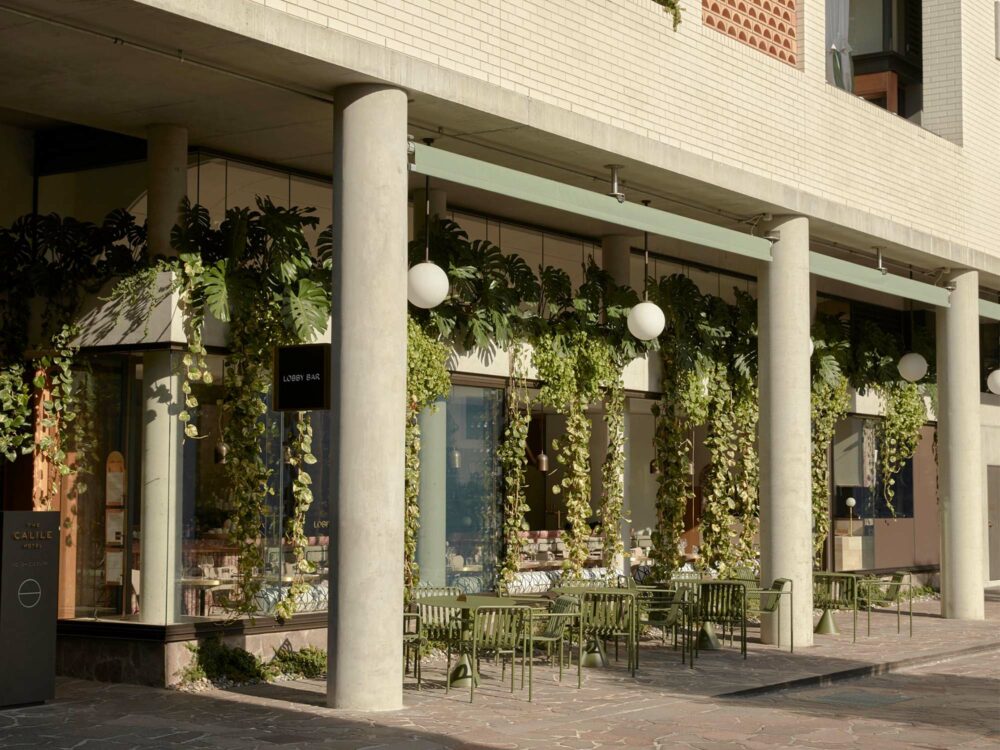 19/10/2021
Street appeal
Events, Fashion, Food, Hotel, James St, Music
Welcome to The Calile bubble – otherwise known as James St. Like all good bubbles it has everything you need right here, within easy walking and rolling distance. So, leave your vehicle with the valet as you won't need it again until it's time to depart.
As for bubble activities, your possibilities are good. Very good. From dining, drinking, shopping and activities to work in around the obligatory pool time.
There is so much to choose from in fact that choice overload is a risk – luckily our team has assembled a snappy list of fool proof recommendations for local must-eat, drink and do within easy striking distance.
If you are thirsty, good news, outside of our much-loved Lobby Bar, several watering holes are in easy reach. Ada Lane's LOS Bar is usually heard before it's seen – follow the sound of happy patrons and join them overlooking the laneway to sip on Thai inspired cocktails. Wander a little further down James Street to find community stalwart Cru Bar – this is the place for serious wine and champagne connoisseurs with an enviable and award-winning cellar. Across the street, secreted in Little James St, you'll find Gerard's Bar, slinging classic and creative cocktails and charcuterie with an oh-so-cool Middle Eastern touch. For those seeking a more informal outdoor setting, Sixes & Sevens offers sunshine and sips in their buzzing garden bar.
You may be (overly) familiar with our in-hotel dining heroes, Hellenika, Lobby Bar and SK Steak & Oyster are always a good choice. However, if you're ready to spread your culinary wings to try something new, James St is now recognised nationally as a leading dining destination. When stepping outside The Calile, you will positively trip over culinary options at every turn. First stop Ada Lane and the international flavours represented – sAme sAme for modern Southeast Asian and Biànca for a classic Italian neighbourhood trattoria. A little further afield (within 100m in fact) don't miss the much awarded and hatted Gerard's Bistro for a truly exciting and exotic menu. And for utter comfort, the intimate Mosconi and its warm Italian offering. Hungry for more? Explore the full community culinary options HERE and, if you've signed up to become a Friend of Calile, you'll be greeted with a complimentary Calile Spritz at participating restaurants.
For foodies planning an itinerary of what and where to eat, take note – newcomers landing soon include Essa, The Green, Sunshine and Gemelli Italian. Watch this delicious space.
The boutique-lined James Street is a mecca for not just fashion but for Australia's leading creative fashion houses. Take a moment to step off the tree-lined thoroughfare to familiarize yourself with the boutiques tucked in leafy laneways and back alleys. Take a left at Harveys Bistro, to local gems with big personality: Gail Sorronda, Natasha Schweitzer, Lee Mathews and St Agni Studio doing what they do best – making us want one of everything. Wander up the street via the likes of Dion Lee and bassike, to the iconic Dinosaur Designs which may we add, pairs perfectly with casual Assembly Label nearby. With over 50 fashion boutiques alone, there are too many to name, and we'd hate to cramp your style – so settle in to browse them HERE. Remember, if you have a Gold Friends of Calile Key Wallet, flash it for 10% off* at participating retailers.
After a 2020 hiatus, our city's annual cultural event, the Brisbane Festival returns in Spring 2021. A one year break has left it undiminished, and in fact, it is back with gusto featuring an impressive lineup of local acts delivering powerful performances around our neighbourhood and beyond. Nearby venues –  Brisbane Powerhouse and The Tivoli showcase a lively line-up of performances including theatre, dance, cabaret and everything in-between. For more information on what's on in our neighbourhood reach out to our concierge team here.
Consider yourself introduced to our bubble. With too much to list here, if you are looking for something special during your stay, our guest services team are experts on our location so happy and able to assist any time.