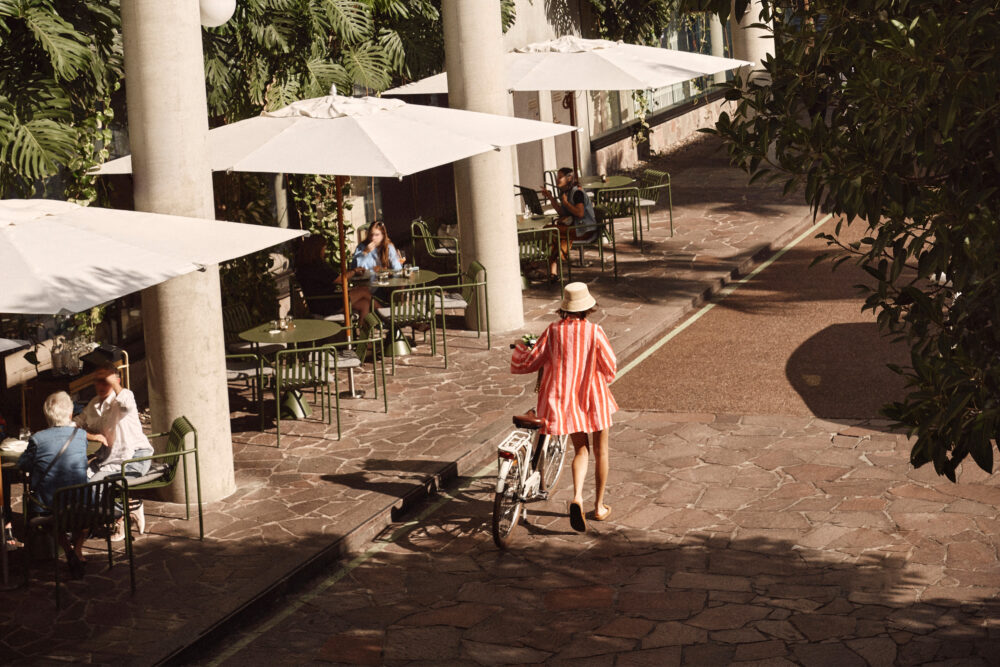 20/07/2023
It's cool, we've got this
Events, Food, Hotel, James St
Winter is our time to shine, sorry Southerners, it's true, winter in the Sunshine State really is the best time to visit.  We've spoken ad infinitum about the mild weather, the heated pool and the sunshine – but what you may not know is that winter is the time when our city thrives.  Think gourmet events, cultural programming, international sporting events and farm animals.  Need we say more? Yes, we can see that we do… We've done the legwork, so all you have to do is choose your adventure.
FOOD: James St Food + Wine Trail
Let's be honest, food is the way to our heart, which is why we love the James St Food + Wine Trail so much.  Since 2011, the James St community of local and nationally recognised restaurants, bars, cafés, bakeries and markets get together once a year and throw a big, delicious party at the end of July. For four days from Thursday 27 to Sunday 30 July this year the event format will take shape in two parts:
Trail Days: Thursday 27 to Saturday 29 July – James St venues host a range of in-venue activities such as one-off champagne menus, long lunches, workshops and limited-edition products and flavours. Our very own Lobby Bar will host a 'Homegrown How To' workshop. Join our gardening gang Future Wild for an informative session served with morning tea on Saturday 29 July from 8am, tickets here.
Market Day: Sunday 30 July – This is when the James St precinct goes into full food mode, with the street turning into a giant 300m dining room with 34 pop-up market stalls from all the leading James St restaurants as well as five live music stages and kids activities. Our own Lobby Bar will join the party too, dishing up Lobster croissants and Calile Spritzes in the street (see full menu here). This free event is widely known as a very, very good time and not to be missed.
IDEAS: Robert Waldinger – The Good Life and How to Live it
Insights from the world's longest scientific study on happiness by The Harvard Study of Adult Development's director Robert Waldinger will be explored at the Brisbane Powerhouse this August. Delivering a transformative talk that aims to reshape the perception of the good life and unveiling the surprisingly simple yet profound answer to achieving a fulfilling and meaningful existence – that embracing community helps us live longer and be happier. We couldn't agree more.
CULTURE: QAGoMA
Celebrated local artist, Michael Zavros takes to one of our country's most respected art galleries with 'The Favourite' at QAGoMA through to October 2023. 'The Favourite' presents Zavros' hyper-real depictions exploring luxury, identity, contemporary culture, glamour and desire modulated with humour, whimsy and ambiguity. Even more alluring is that this is a double billed exhibition, with QAGoMA presenting two powerful Australian artists side by side with the sumptuous 'Beautiful Wickedness' by eX de Medici delivering a powerful one-two punch of dazzling and seductive exhibitions.
SPORT: FIFA Women's World Cup
It is no secret, our state loves sport with the upcoming 2032 Olympics proof of that – but more immediately on the horizon is the FIFA Women's World Cup with eight matches to be hosted in Brisbane this July and August.  We will be donning our green and gold to support the Matildas at Suncorp Stadium this July and recommend if you have not been to Suncorp Stadium, this is the opportunity to experience just why it is called 'The Cauldron'.
FARM ANIMALS: EKKA
Formerly known as 'The Exhibition', the EKKA not only demonstrates the great Aussie tradition of giving everything a nickname, but gives insight into the charm and grit of Australian bush and rural life – think wood chopping competitions, bush poetry, livestock displays, sheep shearing and everything related to agriculture.  This is when the country comes to town and shares their knowledge of agriculture and the land – you'll find us having a yarn over tea and scones with The Country Womens Association.  The EKKA is held at the RNA Showgrounds, just a 5-mintue drive from our doorstep from August 12–20.
Truly something for everyone. These wide-ranging selections are just the start – our concierge team can help you plan and navigate our community and wider Brisbane region when staying with us.  Get in touch to help plan your itinerary.
CRÊPE NEWS
Crêpe season has arrived at Lobby Bar with a savoury or sweet crêpe of the day and a complimentary beverage pairing. Now available Monday to Thursday till 3pm all July and August long.