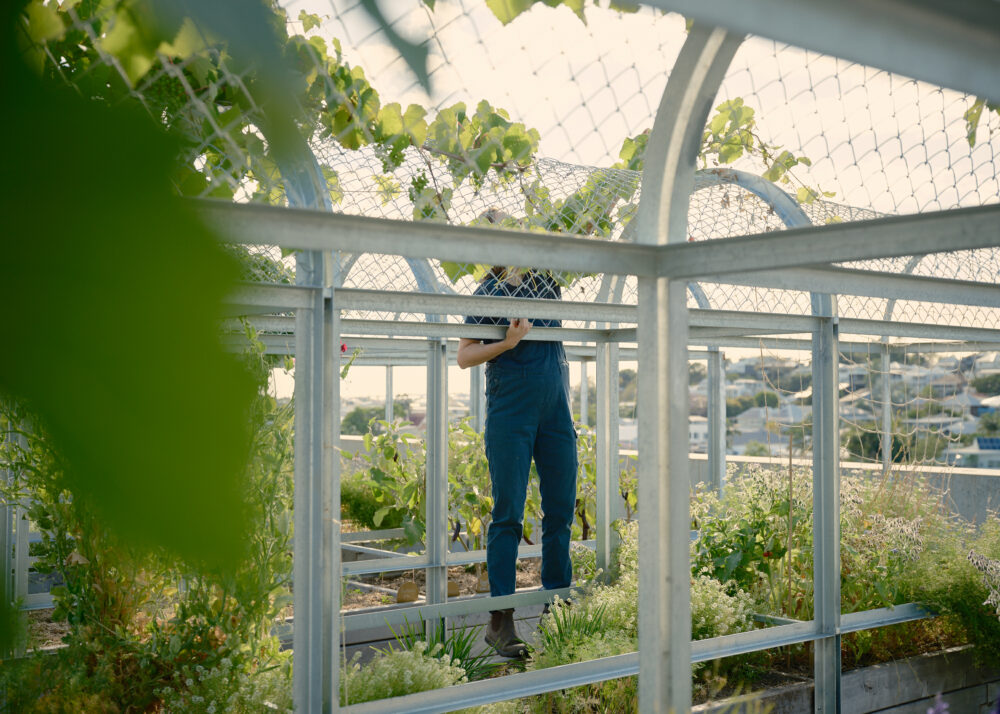 02/03/2023
Homegrown How-to
Events, Food, Hotel
We are passionate about food here at The Calile, it is why we are home to, and are surrounded by some of Brisbane's leading restaurants. It is also why we have a veggie patch on our roof feeding Lobby Bar and its diners daily. Food is the great connecting force – to each other, our environment, and our health. There is nothing quite like that first bite of a homegrown tomato or the joy that comes with plucking your own herbs fresh from the garden, not a plastic packet.
If you've ever longed for a veggie patch but thought it too hard, that you lack room or the right space, we have good news. We are hosting a series of rooftop workshops in our very own garden, to inspire you to grow your own home-grown goodies.
The Calile rooftop is home to a thriving culinary garden, grown and tended with loving care by Elia Guy, founder and owner of Future Wild. A familiar face at The Calile, Elia can be found cheerfully tending our organic garden, harvesting seasonal crops, and sharing botanical wisdom in dungarees.
Elia does so much more than just 'grow vegetables' however, she is on a mission to transform our cities and urban spaces into a verdant mosaic of edible gardens and native habitat patches. Championing urban agriculture, Elia is here to prove that growing food is something that we can all achieve – that anyone with access to a little patch of sunlight, be it a backyard, a balcony or, in our case, a rooftop can cultivate a successful home vegetable garden.
While our own elevated edible garden is often mentioned, it is rarely seen by locals or guests. We invite you to join Elia for the first in a series of special workshops on our rooftop to learn how to grow your own, the secrets of great soil, how to master compost, the trick to growing from seeds and how to manage organic pest control.
Because happiness is a homegrown tomato.
Details and registration link below. Please note bookings are essential as space is highly limited.
Date: Saturday 29 July
Time: 8:00am–9:30am
Inclusions: Workshop
Gardening gloves
Tea, coffee and light breakfast on arrival
Goodie bag and information pack
Fee: $90 per person
Bookings: here