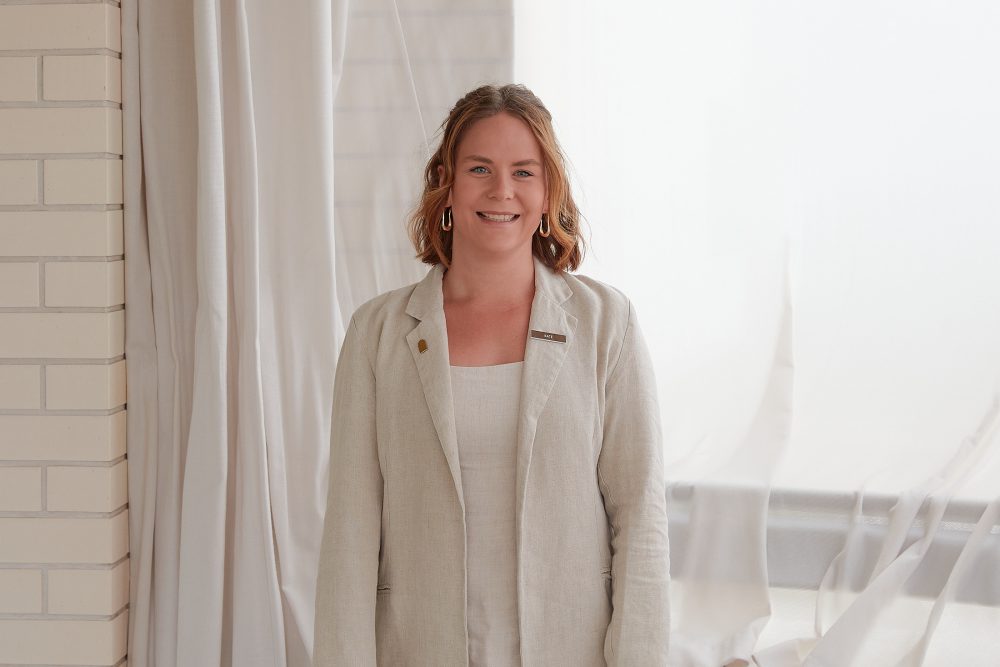 22/10/2020
Say yes
Events, Hotel
Most wedding ceremonies last on average approximately 20 minutes, the reception celebration – anything from two to eight hours (or days!) – yet the planning and preparation for these occasions can take untold hours, months and even years – with every minute detail of importance and examined time and time again to ensure the perfect outcome. It is not surprising, given a wedding is after all one of life's milestone events marking the end of one era and the beginning of another.
At The Calile, our job is to make both the journey and THE day most memorable – for all the right reasons. No memory is more important than those of your special day – for this reason, we have a dedicated in-house wedding planner to ensure everything is taken care of in keeping with your plans and expectations.
Meet Kate Redgen – The Calile Hotel's resident wedding executive. We spoke with Kate about what sets Calile weddings apart, her advice for couples and how 2020 has shaken up the event formula.
How many weddings have you planned at The Calile and in your events lifetime?
To date, I have planned 70 weddings at The Calile and over 300 in my planning lifetime – I have 6 years post-university experience.
What is the most popular wedding space at The Calile?
Our Grand Room is definitely the favourite, it is so versatile and can cater from 40 up to 200 people.
Elopements have become THE wedding of choice at a time when big traditional weddings are so affected – what are the benefits of this format and how is an elopement special at The Calile?
It allows you to have an intimate celebration with your closest loved ones in a location that is just as special and visually stunning. Currently, many couples are opting for something small as a temporary celebration and are working towards larger celebrations when restrictions ease.
What's the most extravagant wedding you have planned at The Calile and why?
We had a wedding of 180 people where no expense was spared. Picture floral Installations hanging from the roof, oyster stations and exquisite beverages. It was a very big day and incredible to see every detail come to life.
2021 is looking exciting with many rooftop and multi-day 'destination weddings' with The Calile becoming the destination of choice.  The year ahead will definitely be very busy in the best possible way.
What makes Calile weddings so memorable?
I think that the ability to have it all (ceremony, reception and accommodation) in the one location and have all of your friends and family be able to relax together for the weekend. We take care of everything on the day to ensure that couples can also relax and have a stress-free experience.
How far in advance do people book weddings at The Calile and begin the planning process?
Most medium to large size wedding receptions are booked twelve to sixteen months in advance. We start the planning process three months out from the event, allowing the couple to enjoy a menu tasting and plan all of the important logistics for their big day
Can you share something people might not know about hosting a wedding at The Calile?
We have a glorious rooftop with stunning city views that newlyweds can access for their photos if they book their reception with us. It also means that they do not have to travel anywhere for photos – increasing the time that couples get to spend with their guests.
How large is The Calile events team and how many staff does it take to execute a full wedding?
We are a team of five; with three in events and two marketing. I'm the Wedding Coordinator and will be there for the couple on the day to ensure everything runs smoothly and looks perfect. We then have our amazing banquets and kitchen staff that ensure guests are looked after for the rest of the celebration –  I'm so proud of everything that they do and the quality of service they provide. Knowing that I have support from the best possible team enables me to book weddings in the knowledge that the event we will deliver will be nothing less than exceptional.
Top piece of advice for couples planning their big day?
Go with your gut feeling and styling ideas. If your wedding is in one year, don't do everything at once. Give yourself milestones so that the whole experience remains exciting.
Weddings are already stressful, add a pandemic plus social distancing and the stress levels go through the roof.  Any words of wisdom or simple steps you can advise to help ease the pressure?
No matter what restrictions are in place at the time, as long as your main goal is to marry your loved one, this is the one thing that we can make happen in any circumstance – dancing, no dancing, we can make a wedding work no matter the regulation. If there are restrictions, we suggest fun and memorable alternatives. For example, when dancing was restricted, we recommended live entertainment and experiences like gelato carts, caricature artists or acoustic music performances. There are always ways to make memorable experiences.
What's been the greatest challenge for you and your events team during the pandemic?
 For the team and I whose jobs (and personalities) lend to being very organised, we have had to adapt and pivot to be able to plan weddings far quicker than usual (sometimes within 7 days) and make changes even quicker in accordance with the ever-changing guidelines. It's challenging and exciting but most of all rewarding when you see happy couples and guests enjoying themselves.
What do you think weddings will look like post-pandemic? Do you think this experience has changed the way we look at weddings with a renewed focus on becoming humbler and more intimate?  Or is it just a matter of time until the return of the big bold celebration?
Thus far, 2021 bookings are looking bigger and more extravagant than ever before. Multiple day events with after-parties and recovery events too – however, elopements and smaller weddings remain popular, a new movement away from the traditional event which the pandemic essentially made trendy and more acceptable.
Quick Q's:
Biggest trend right now: Boho with muted tones and small pops of colours.
Small and intimate or big and bold? Personally, small and intimate would be my choice but it definitely comes down to the couple.
Will you plan your own wedding? I don't think I could step away from my own wedding I am just too organised. Or, I would have an overseas wedding so that I'm forced to put faith in someone else. I am however a long way away from that and currently missing the one essential wedding item….